If kratom piques your interest, you certainly wondered is kratom legal? Kratom legality depends on your state. There is a kratom ban in some states, while it is free to use in others.
Below is a handy list that breaks down the legality of kratom in every state.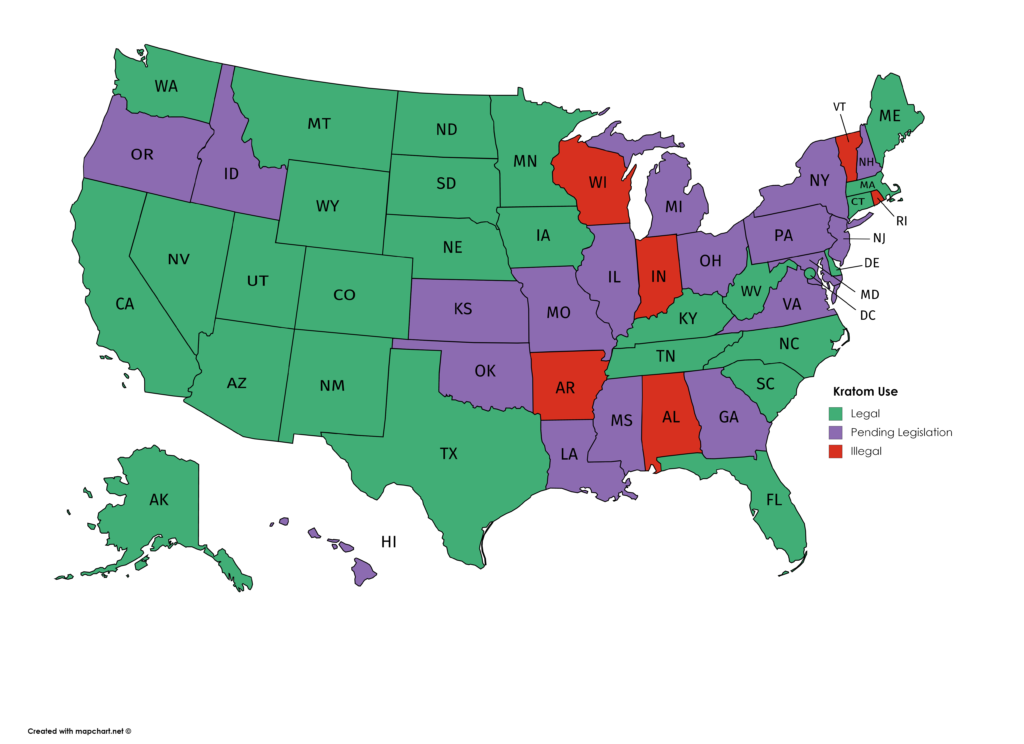 Is Kratom Legal? – A Quick Run Down
Alabama, Arkansas, Indiana, Rhode Island, Vermont, and Wisconsin – Kratom is illegal to buy, sell and use.
Illinois – Kratom is legal for use, with the exception of Jerseyville, to people over the age of 18.
New Hampshire – Kratom is legal to use for anyone over the age of 18.
California – Kratom is legal for use but banned in the city of San Diego.
Florida – Kratom is legal for use but banned in Sarasota County.
Mississippi – Kratom is legal for use but banned in Union County.
Colorado – Kratom is legal in Colorado, with an exception in Denver where it is "illegal for human consumption."
Tennessee – Kratom was banned, but it was lifted in 2017 and is now legal to use for those over 21 years old.
In the remaining states:  Alaska, Arizona, Connecticut, Delaware, Georgia, Hawaii, Idaho, Iowa, Kansas, Kentucky, Louisiana, Maine, Maryland, Massachusetts, Michigan, Minnesota, Missouri, Montana, Nebraska, Nevada, New Hampshire, New Jersey, New Mexico, New York, North Carolina, North Dakota, Ohio, Oklahoma, Pennsylvania, South Carolina, South Dakota, Texas, Utah, Virginia, Washington, West Virginia, and Wyoming it is legal to consume, sell, and buy kratom.
Check out our blog where you can read more about the differences between kava vs kratom. 
Alabama
Known as the Yellowhammer State, the populace of Alabama may be wondering if they can get their hands on kratom products. However, that's not going to be possible. Two alkaloids that are the main components of kratom, hydromitragynine and mitragynine, were banned by law on May 10, 2016. So, by default, kratom is illegal in Alabama. It's a bummer, but there are plenty of other states where it's perfectly legal.
Arizona
A state that is one of the most popular in terms of tourists in the nation (44 million annually). A trip to Arizona may mean that you get your hands on kratom products, as it is legal to buy and use kratom in this state. While the future looked uncertain back in 2014 for the substance, it seems that the state has changed its mind on the matter. 2019 introduced a bill protecting kratom users.
Arkansas
If you're heading to Arkansas, you may be on a road trip to the Crater of Diamonds state park. On the way, you may feel inclined to pick up some kratom products. However, that's going to be difficult as kratom is illegal in this state. Up until 2013, you could buy all the kratom you wanted in Arkansas. A doctor's mistake cost the state this fine product.
Colorado
This is the state that legalized marijuana and repealed its ban on alcohol a year before the rest of the States back in the 1930s. With this in mind, it shouldn't come as a shock that kratom is perfectly legal in the Centennial State. However, there are a couple of exceptions. The product has to say "not for human consumption" on the label in the city of Denver. Secondly, vendors of kratom are not allowed to offer recommendations for their products. So, yes, it's legal. But those two points of interest may deter some people from purchasing it.
Connecticut
A small state, Connecticut is one of the biggest supporters of kratom. How so? Kratom is legal in all areas of the state. There are not any loopholes or situations where the government has tried to step in and ban it.
Delaware
Similar to Connecticut, Delaware is a small state that takes pride in the independence it gives its citizens. Even the state's motto, "Liberty and Independence" makes it clear that kratom products are legal here. You won't run into any red tape from the government, so feel free to travel to the state and buy some high-quality products like Green Dragon kratom.
Hawaii
The most recent territory to gain statehood in 1959. Hawaii is a destination hotspot for people looking to hit the beach and get away from life for a while. If you find yourself in the Aloha State, pick up some kratom. It's legal in all parts of the state, and there are even 10 brick and mortar stores that you can visit in person.
Idaho
If you're looking for a state that you can buy kratom in without the fear of prosecution, then you may consider visiting Idaho. Currently, there is a push to revamp the laws regarding Kratom, but it will not hinder you from buying it. The law was introduced in June of 2019 and is based on the regulation of kratom. This law would ensure kratom is pure when being sold and not tampered with. It's nice to know the government in Idaho is looking out for people who want to buy kratom locally.
Illinois
The Prairie State houses one of the most popular cities in the U.S., Chicago. While almost 80% of the state's residents live in this one city, Illinois is also known for its love for kratom. It's free to use and sell anywhere in the state except for two places. The cities of Alton and Jerseyville are the two locations in the great state of Illinois where you can't purchase kratom. And it looks like a bill was proposed in 2018 to make kratom illegal throughout the entirety of the state. However, the bill did not pass, which means you are free to enjoy kratom anywhere besides those two cities.
Indiana
Kratom is banned in Indiana, and it may be because of a misworded bill that's now a law. Back in 2004, a bill stated that 7-hydroxymitragynine and mitragynine (the basic building blocks of kratom) were synthetic substances. Thus, they were banned. The problem is that they're not synthetic but natural. However, there has been no change in the law.
Kansas
The great state of Kansas is home to many fantastic cities and universities. And, if you find yourself visiting this state for either of those reasons, you may wonder if kratom is something you'll be able to buy. After all, searching for a place to buy kratom locally in your area may be hard to do. Kratom is legal to buy in Kansas. However, in 2018, there was a movement to ban the substance. Several kratom advocates stood up for it, which has deterred the ban of kratom. If you're ever in Kansas, feel free to stop by a kratom dispensary.
Kentucky
Kratom is legal to buy in the state of Kentucky. However, there are movements towards banning kratom in the bluegrass state. Year after year, the state government has tried its hardest to make sure kratom isn't legal. They keep failing, but there is a fear that they will succeed soon.
Louisiana
Louisiana is a wonderful place if you're looking to buy some kratom. Indeed, kratom is legal in the state, but lawmakers might have something to say about that in the future. There have been numerous attempts by the government in Louisiana to ban kratom. Since 2014, kratom has been on the lawmaker's radar. The bill that originally wanted to ban kratom did pass, but it did not include kratom use. Another law came about in 2019, but it too was unsuccessful.
Maine
If you're heading to Maine either for a nice, relaxing vacation or to see the beautiful vistas, you should know that you can also legally buy kratom. It's been legal within the state's borders for quite some time, but its freedom has been threatened more than once. Most recently, a 2017 lawmaker wanted to label kratom as a Class W substance. However, that failed, and kratom continues to be legal to this day. Maine has many kratom dispensaries. Some even offer delivery service.
Maryland
This state has no problem with kratom. There has never been any sort of attempt to make it illegal, and it shows in the outpouring of stores and shops that have sprung up selling it. You know it's a safe place to purchase kratom when the vendors freely advertise their products. Although the state is one of the smallest in the nation, its love for kratom knows no bounds.
Massachusetts
Here are a couple of facts. First, Massachusetts is the third healthiest state in the nation. It's also where basketball was invented. So, why do these two facts matter? Well, they show that the citizens of the Bay State are both health-conscious and that they are inventive and open to new ideas and concepts. This fits in perfectly with states who sell kratom. Kratom is legal in Massachusetts. There has never been a push to deregulate or ban the substance. Looking to buy kratom locally in Massachusetts? The Greater Boston area should have you covered, as it hosts a range of shops that can provide you with all the kratom that you want and need. If you live near Massachusetts and are a kratom enthusiast, it's highly recommended you check out what the state has to offer.
Michigan
A state known for football and cold weather; you won't have any problem finding kratom here. This was not always the case. In 2014, lawmakers in the Great Lake State tried to ban the selling of mitragyna speciosa. The law failed, leaving kratom available to buy for all those who reside in Michigan. The failure of the law was thanks to the signatures of citizens who wanted kratom to be kept legal. More than 1,700 people scratched their names on a petition to keep it that way.
In recent years, a couple more attempts have been made to ban kratom. However, they have both failed. With all of these victories, kratom lovers in Michigan have many options if they choose to buy kratom locally. It's a great state and an even greater place to purchase any type of kratom they provide, like Gold Bali.
Minnesota
Minnesota has a somewhat unique policy when it comes to kratom and kratom-related products within the state's borders. Before 2018, anybody could buy kratom. There were no age restrictions. However, this all changed when a law was passed that specifically stated that anybody who purchases kratom must be over the age of 18.
It's a law that seems like common sense, but they made it their purpose to point it out and make people aware. Once you turn 18, you have free reign to buy whatever type of kratom you want. Green Horn? You got it. Red Thai kratom? You can walk out of the stores with it.
Mississippi
With some of the worst healthcare in America, the state of Mississippi may not be your dream destination. Not only is it not the best place to go on a vacation, but it also has some very confusing laws regarding buying and consuming kratom.
The basic issue is that kratom isn't banned statewide. Instead, it's up to each county and city to decide for themselves whether they want to allow kratom to be legal or not. You can imagine how confusing and difficult that makes it for kratom enthusiasts who just want to buy some.
A few counties that restrict it include Noxubee, Alcorn, and Lowndes. A few cities that have banned it include Blue Mountain, New Albany, and Fulton. If your objective is to buy kratom locally in Mississippi, you can do so, just make sure you understand the laws before you make your purchase.
Ohio
Ohio tends to be a hub that connects the East and Midwest. Kratom is legal in Ohio. There is a pending law that may cause issues for kratom in the future. When a law is passed, it goes through various phases. The law to ban kratom has passed through a handful of these phases, so it's closer to being banned than to being kept legal
Tennessee
Visiting the Volunteer state means that you'll have access to kratom and the various products that are associated with the leaf. There are a few guidelines you have to follow if you intend on buying kratom from this southern state. One of the main ones is that synthetic kratom is not allowed. Instead, any kratom sold needs to be 100% authentic. It also needs to be labeled that it's natural. You also have to be over the age of 21 to legally purchase it. Some states only require you to be 18, but Tennessee is a bit stricter when it comes to age. These laws were put in place in 2014 and haven't changed since.
Texas
Texas has the reputation of a Wild West town. Many say that some of the laws are relaxed there and that it's a true haven of freedom in the U.S. This idea extends to kratom products and the substance itself. There are absolutely no restrictions on the mitragyna speciosa leaf. Are you over 18? Enjoy as much kratom as you want. This is probably one of the best places to buy kratom locally. With no restrictions, you can easily try out various strains and veins to find your perfect match!
Florida
Traveling to the state of Florida, you may wonder if you have the privilege of buying and consuming kratom. Sarasota County is the only county in the state that it's both illegal to buy and sell kratom. Everywhere else is fair game. However, lawmakers are pushing for kratom to become a Class1 substance.
Georgia
As long as you're above 18, you can consume and purchase kratom in Georgia. All kratom labels must show the consumer exactly what they're getting. Are you looking to buy kratom locally? Atlanta is a hotbed of kratom shops, so make sure to make a trip to one of the biggest cities in the state.
Iowa
In Iowa, kratom is legalized and there is no sort of restrictions you must abide by. 2014 was the only year when the Iowan government tried to make any sort of ban on kratom. Lawmakers were not successful and consumers can easily access kratom anywhere in Iowa. Des Moines tends to be the central hub for kratom. They have plenty of brick and mortar shops for you to explore.
Our Blog
What to know more about different vein colors: Red, Green, Yellow, and White? Check out our blog.
Our Shop
Check out our shop where you can find the most popular kratom veins and strains. Here is a list of some of our customer's favorite kratom products.
Check out our blog where you can learn how to make kratom extra at home.
Disclaimer: kratom is not used to treat, cure, or mitigate any disease, illness, ailment, and/or condition. Please see FDA import alert 54-15. We make no representations as to intended use or suitability for use.