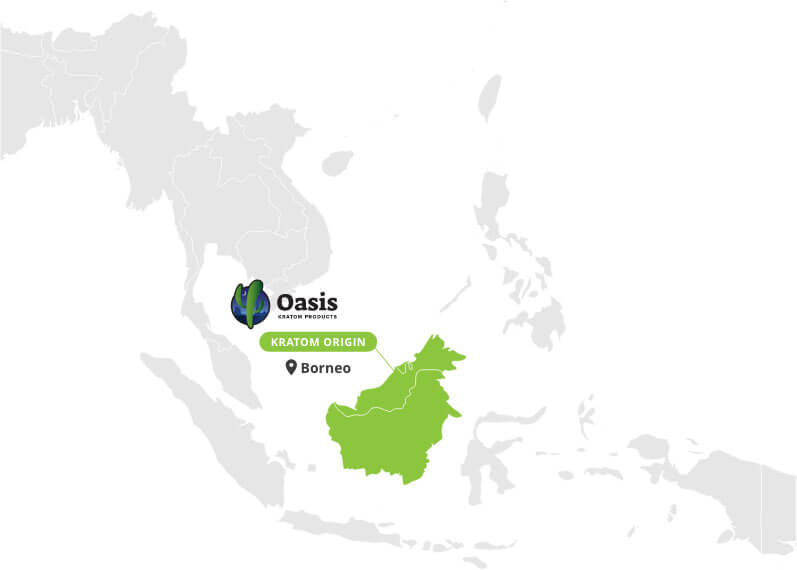 Oasis Kratom is a top choice for Green Borneo Kratom. It is a popular strain among people who are new to kratom, as well as avid users. This strain is best taken during the day. Kratom is most often characterized by its vein color and where it originated from. Green Borneo comes from the Southeast Asia island of Borneo. This plant is native to this area and will grow in the forest.
Green vein kratom happens to be the rarest version of kratom in Borneo, but this has not made it any less popular. Although Borneo is known to be less potent than other strains, it is a great option for those who are just starting with kratom. Out of all the Borneo strains on the market, the green variety does happen to be the strongest. 
What Is Green Borneo Kratom?
Green Borneo is cultivated from Mitragyna Speciosa trees. It has a smooth taste and is one of the purest forms of Green Vein Kratom. Once the leaves are harvested they will go through a specialized drying process. They are then crushed into a powder and sold to consumers or used to make other products.  
While kratom does grow wild in the jungles and forests throughout Southeast Asia, most farmers will have plantations where they take care of their crops. This allows them the chance to control the quality, purity, and consistency of their kratom. As a result, better quality kratom is offered on the market. 
Borneo Kratom – Green Vein Kratom Strains
Borneo kratom originates from the Borneo Islands. It is offered in red, green, white, and yellow kratom. This allows you the chance to purchase a strain that is suited for your specific needs. The weather in Borneo is ideal for growing high-quality kratom. Green vein kratom strains are known to provide balanced support and this is because it is at the midpoint of their life cycle. 
The vein that runs down the middle of the kratom leaf will transform as the leaves mature. They will begin their lives as white veins. This type of kratom can be harvested but it will offer subtle support. Next, the vein will reach the midpoint of its life cycle. The vein will appear green. This type of kratom will be more potent than white vein but will not be as robust as red. 
The last phase in the leaf's life cycle is a red vein. Red vein kratom is well regarded in the kratom industry, as it is very potent. The mature leaves will boast an alkaloid profile that is rich and well-rounded. It is during the drying process that the alkaloids will reach their peak maturity and lock in their potency. 
Green kratom is the middle of the road when it comes to potency. It is a great starting point for those who are new to kratom. It will allow a user the chance to see if the green strains provide the support they are seeking. If not, then they can adjust this by moving to a red or white strain. 
The variety that kratom offers is crazy. You have three vein colors that occur naturally, and then there are yellow or golden strains. This vein color is achieved through a specialized drying technique. Not all vendors will offer yellow kratom because it is not as easily accessible as red, white, and green. 
Why Buy Green Borneo From US?
Oasis Kratom has been in the kratom market for years. We have close relationships with our farmers and only offer the highest quality products. We are members of the AKA, which means that we strictly adhere to all GMP regulations set by this organization. 
This ensures that you are getting the best kratom that is pure and free of any contaminants. We offer a huge variety of strains in capsules, powders, and extracts. Plus, we are continuously adding to our line of products. 
In addition to our long list of quality products, we have some of the best customer support around. This means that you can buy from us knowing we will be beside you every step of the way. There are lots of benefits when shopping with Oasis Kratom. 
How To Order Green Borneo Kratom Powder
Are you ready to order? No worries… it only takes a few steps to get checked out and buy kratom. If you have any concerns do not hesitate to reach out to us. 
Find a strain you love while shopping on our website.

Choose the amount you would like to order.

Add the product to your cart. 

Go to checkout and enter your shipping and payment information. 

Hit submit and you should receive a confirmation email with your order details. If you do not, reach out to us and we will confirm if the order has been placed or not. It is that easy to buy Green Borneo. 
AKA – Why Are They Important?
When choosing a kratom vendor you will want to go with a supplier who is registered with the American Kratom Association. While the government does not regulate this industry, each state is given a choice for handling kratom.
It can be tricky to find a reputable vendor since herbal supplements are not FDA regulated. However, the AKA has placed some guidelines within the industry to help keep consumers safe and make vendors more reliable. They are the main source of advocacy when it comes to kratom. 
To be a part of the American Kratom Association you must first meet their high standards. Oasis kratom is one of 25 vendors who is registered with the American Kratom Association. When you buy from us you are getting a quality product that has been tested and approved by the industry's leading organization. 
Similar Strain to Green Borneo
We offer Green Borneo in powder and capsules. If you are searching for another strain that you do not see listed on our website, let us know. We are always adding to our line of kratom. Below are some suggestions that are similar to Green Borneo.
Red Borneo
Borneo kratom is popular for good reason. The red variant comes from the most mature trees. This means that they will have a robust alkaloid profile and the reason why red vein kratom is so highly sought after. If you like Green Borneo you may opt for Red Borneo Powder or Red Borneo Capsules.
Green Borneo Capsules
While we are offering Green Borneo in powder we also have Green Borneo Capsules. It all comes down to your personal preference. Capsules are convenient and for this reason, a lot of people seek vendors who offer their favorite strain in capsule form. Green vein kratom strains are well known for their long-lasting support, making Borneo kratom green vein one of the most sought-after kratom strains on the market. 
White Borneo Kratom 
You will find White Borneo Powder and White Borneo Capsules here on our website. White vein kratom is created using the youngest leaves. This does not make it any less sought-after than the red varieties. It comes down to what type of support you are looking for. White kratom will offer more subtle support but is still highly regarded in the kratom community. White Borneo kratom is a great strain for avid users or newbies. 
Green Malay Kratom 
Green Malay kratom is well known by those who like Borneo. It shares some similar characteristics as it comes from a similar region. The humidity and climate in Malaysia and Borneo are the same, so you expect the green varieties to be very similar in the support they offer. This is one of the most popular kratom strains on the market. 
Consult Your Doctor
It is important that you consult with your medical doctor before making a purchase. They will be able to review the benefits Green Borneo can offer you. They are the only ones who can give you recommendations and talk through the pros and cons of kratom, such as if one strain is energizing or can help with daily pain or relief. 
No one else can advise you on the effects Green Borneo can provide. While some vendors talk about the effects that strains can offer, this is something you should only speak to a physician about. You will notice that we do not talk about dose, side effects, or benefits here on our website. People are different and your body will not be the same as your friends. We do not advocate or encourage consumption. This plant can be utilized in a number of ways. Remember, only your physician can offer you advice. This is why we cannot express enough how important it is to talk with your physician about this plant before making a purchase. 
Borneo Kratom Review can be found below. These reviews are created by our customers who have bought and tried the products. If you have any other questions about the Borneo kratom strain, be sure to reach out to us. Kratom contains long-lasting properties that are highly sought after in the industry. If you want to work with the best, you have come to the right place.
Check if Green Borneo Kratom is legal in your state. Our blog is packed with the latest news in the industry. Be sure to check out our blog when you have a question. 
Alternative To Kratom 
If you live in an area where kratom is illegal you may be seeking an alternative. A kratom strain can offer wellness support but this herb has a lot of legal issues. This has forced some individuals to seek alternative herbs. Below are some alternatives you may consider. These alternative herbs will have different properties so do not expect to see the same type of support. Before you buy any herbs or supplements be sure to consult with your family physician.
Kava

Blue Lotus

Mitragyna Hirsuta Extract Powder (30%)

Delta 8
Borneo kratom is some of the most sought-after strains in the industry. It does not matter what vein color you are looking for, we have you covered here at Oasis Kratom.