What Is Red Borneo Kratom?
You can get your high quality Red Borneo Kratom right here on Oasis Kratom. Kratom is characterized by the vein color and where it originates from. So, it is easy to see that this kratom comes from the Southeast Asia Island of Borneo.
The Borneo leaves come in three varieties which include Red, White, and Green. Many users prefer the red vein strains. Red Vein Borneo is believed to be one of the strongest strains of Kratom available, and its alkaloid content also contains natural analgesic properties. Red Borneo Kratom is potentially one of the most popular strains available on the market.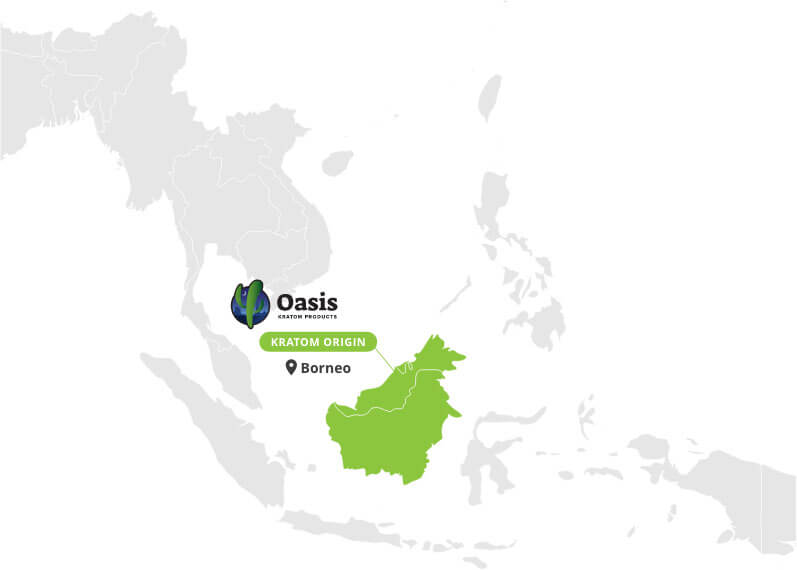 Red Borneo – Strain Overview
Red Borneo Kratom is created using the most mature leaves. The vein within the leaf will transform as it ages. This indicates when the leaf is ready to be harvested. The vein will first be white and then transform into a green vein. The last stage of the leaf's life cycle is red.

Red vein kratom happens to have the most robust alkaloid content. A single Red Borneo kratom leaf will contain more than 20 alkaloids, and the most prevalent of these are mitragynine and 7-hydroxymitragynine.

Red Borneo comes from the Borneo Islands. The weather here is optimal for the growth of the trees. While these trees grow in the wild, most farmers control their trees on plantations. This allows them to ensure the quality and purity of their products.

Once the Red Borneo Kratom leaves reach their peak maturity, farmers will harvest them and leave them to dry on racks. These racks are designed to help shield the leaves from direct sunlight. The sunlight can cause the alkaloids within the leaves to be altered. The drying process is extremely important because this is when the alkaloids will lock in their potency.
Understanding Red Vein Strains
Red Borneo Kratom Powder is popular for good reason. As we mentioned above the Mitragyna Speciosa leaves contain a vein that runs down the middle of the leaf. This vein will transform as the leaf ages. This is a visual indicator that the leaves are ready to be harvested.  Red vein kratom is highly sought after because it contains the highest levels of alkaloids. Borneo kratom is one red strain out of hundreds. Plus, more and more strain options are coming to market all the time. 
Red Borneo Kratom has a higher concentration than Green Borneo. So, this means that you have to understand what you are looking for. While the strain may be the same, the vein color makes it vastly different than the other strain varieties. 
How Is Red Borneo Kratom Made?
Red Borneo Kratom is cultivated from Mitragyna Speciosa trees. This strain goes through a fermentation process that uses sunlight and water. This process will enhance the concentration of 7-hydroxymitragynine and the alkaloid Mitragynine Pseudoindoxyl. The fermentation process is essential to this strain, as it enhances its potency levels.

Many people seek Red Borneo Kratom strain because of the potency that it offers. Just remember that everyone is different and what works for your friend may not work for you. 
American Kratom Association
When choosing a vendor, you will want to go with one that is registered with the American Kratom Association. While this industry is not regulated by the government each state is given the choice as to how they will handle this herb.

It can be tricky to find a reputable vendor since herbal supplements are not FDA regulated. However, the AKA has placed some guidelines within the industry to help keep consumers safe and make vendors more reliable. They are the main source of advocacy when it comes to kratom.

To be a part of the AKA you must first meet their high standards. Oasis Kratom is one of 25 vendors who is registered with the AKA. When you buy from us you are getting a quality product that has been tested and approved by the industry's leading organization. 
Why Buy Red Borneo From Oasis Kratom?
Red Borneo is a popular strain and it can potentially be found through other vendors.  Oasis Kratom is part of the AKA, which means you are getting the highest quality products when opting to purchase your powders or capsules from us. We follow all the high standards set by the AKA to ensure you are getting the best possible powders, capsules, and extracts.

We have formed close relationships with our farmers, which means we understand what happens at each stage of the harvesting phase. We ensure our customers only receive the best products that the industry has to offer.

In addition to quality products, we also have an amazing customer support team. This means you can rely on us if you have any questions. Also, we take great pride in educating our customers about this herb. You can head over to our blog and check out the latest kratom news.

Red Borneo Kratom is one of the popular strains that we offer. You will find a large variety of strains on our website to choose from.  If you are looking for high-quality kratom let us save you a lot of time and energy in your search! That time and energy can be spent on things you enjoy doing while you leave your kratom needs up to us!  When buying from Oasis Kratom you can sleep easy at night, as you are getting the best possible products that are offered. 
Related Products
We offer several powders, which include Red Borneo, Red Bali, and Red Dragon. Don't forget to check out our range of capsules as well. If you have any questions just let us know!
If you love Red Borneo, then you will want to give this product a try:
Sample Packs
Split Kilos Sample is the way to go! it does not matter if you want capsules or powder, we offer our split kilo sample packs in both. You can get a Borneo Split Kilos pack or a Red Borneo Split pack. This means you will get your favorite strain as well as be able to explore other options. You can potentially get 3 different strains, which is great for those who are new to kratom.
Other Products
Borneo Kratom may be your favorite strain but what happens if you are in an area where this herb is banned? You need to have alternative solutions if you plan to travel to an area where this is true. These herbs can serve as kratom alternatives for those states that have ban kratom.