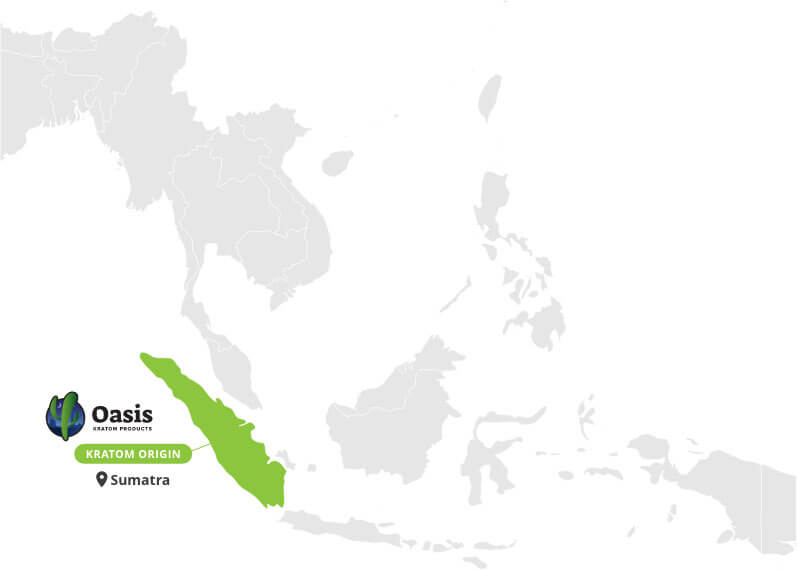 What Are Green Elephant Kratom?
Green Elephant Kratom, a variant of Mitragyna Speciosa, is an evergreen tropical plant aboriginal to Southeast Asia with large leaves that resemble elephant ears. These Kratom trees have dark green leaves containing highly potent alkaloids like mitragynine and 7-hydroxy mitragynine.
The leaves of Green Elephant Kratom have been used as a wellness ingredient historically in Southeast Asian regions like Indonesia, Sumatra, Vietnam, and Malaysia. Like other strains of green vein Kratom like Green Borneo Kratom, Green Malay Kratom, and Green Thai Kratom, Green Elephant Kratom strain also has refreshing effects.
Why Buy Green Elephant Kratom Online From Oasis Kratom?
30-Day Guarantee 
Oasis Kratom highly values its customer satisfaction. If you aren't absolutely pleased with our products, you can contact their customer service to get your money refunded within 30 days of receiving your products.
Shipping Information 
We offer same-day shipping on all orders placed from Monday to Saturday. You can shop at our website 24/7 and expect your order to be delivered to your doorstep within 3-4 days.
Third-Party Lab Reports 
We prioritize our customer's well-being. Thus, all our products undergo rigorous lab tests by third-party labs to ensure you receive only the best kratom supplements devoid of adulterants and contaminants.
Is Oasis Kratom accredited with AKA?
Yes, Oasis Kratom is accredited by the American Kratom Association (AKA), which authorizes the company's legitimacy.
Does Oasis Kratom follow GMP guidelines?
Yes, Oasis Kratom strictly follows Good Manufacturing Practices (GMP) guidelines to deliver high-quality Kratom to its customers.
What Are The Countries Where Oasis Kratom Ship Kratom Products?
We do not deliver products in countries where Kratom is banned or highly regulated, such as Australia, Burma, Denmark, Finland, Israel, Lithuania, Malaysia, Myanmar, Poland, Romania, South Korea, Sweden, Thailand, the United Kingdom, and Vietnam.
Legal Information 
Oasis Kratom ensures its customers understand that the US FDA does not approve its products and is not intended to diagnose, prevent, treat, or cure any diseases or health conditions. The vendor urges its customers to be of legal age before purchasing and comply with local laws against Kratom consumption.
Safety Information 
We also follow various measures to ensure its product quality. All our products are formulated using natural Mitragyna Speciosa sourced from the finest Kratom growers and are rigorously tested multiple times for salmonella, E. coli, staph, yeast & mold.
Green Elephant Kratom FAQs 
What To Look For When Buying Quality Green Elephant Kratom?
When buying quality Green Elephant Kratom, choose a reputable vendor that offers third-party lab testing for their products to ensure freshness and potency. In addition, look for customer reviews better to understand the vendor and its products and services.
How Much Does Green Elephant Kratom Cost?
The cost of Green Elephant Kratom can vary depending on factors like the vendor, quality, quantity, and location. Generally, Green Elephant is priced between $10 to $20 per ounce. High-quality, organic Green Elephant Kratom can be pricey compared to its cheaper variants.
What Is The Shelf Life Of Green Elephant Kratom?
The shelf life of Green Elephant Kratom depends on various factors such as climate, storage conditions, and quality. Kratom should be kept in a cool, dry place away from direct sunlight and moisture to extend its shelf life. Properly stored Kratom can remain potent for about one to three years.
Is White Thai Kratom Legal Near Me?
In the United States, kratom is not federally regulated. However, the Drug Enforcement Agency (DEA) has labeled Kratom as a controlled substance due to its psychoactive properties. Kratom is illegal to buy, sell, possess, or use in Alabama, Arkansas, Indiana, Rhode Island, Vermont, and Wisconsin.
What Is The Legal Age To Consume Green Elephant Kratom?
There is no specific federal law regarding the legal age for kratom consumption in the US. Oasis Kratom requires the customer to be at least 21 to buy Kratom from our site.
Do Oasis Kratom Offer Wholesale Service For Our Customers?
Yes, Oasis Kratom does offer Wholesale services to its customers. You can buy Kratom by kilogram at a discounted price.
Can I Fly With Green Elephant Kratom Abroad?
The legal status of Kratom varies in different countries, ranging from being completely legal, regulated, or even banned. Thus, if you wish to fly with Green Elephant Kratom, we recommend consulting the destination country's consulate or a legal expert to learn about the local laws and regulations.
Green Elephant Kratom Buyers Guide
Why Is It Important To Buy High-Quality & Organic Green Elephant Kratom?
Purchasing high-quality and organic Green Elephant Kratom is vital for securing the purity and efficacy of the product. Reputable vendors test their products through independent labs to guarantee that customers always receive unadulterated and pesticide-free Kratom.
Where Can I Buy Organic Green Elephant Kratom at a Lower Price?
You can explore the websites of reputable vendors if you explore a wide selection of organic Green elephants and buy it at a lower price and lucrative discounts. In addition, you can purchase organic Kratom in bulk to ultimately save money.
What Makes Oasis Kratom Green Elephant Kratom Different From Its Competitor?
Oasis Kratom products from Green Elephant strains are formulated using 100% all-natural, high-quality Mitragyna Speciosa. They undergo multiple levels of third-party tests to ensure they are contaminant-free. In addition, the products are AKA-certified.
How To Recognize High-Quality Green Elephant Kratom?
Premium-quality, organic Green Elephant Kratom typically has a rich green hue with a distinct aroma and smooth texture. Ensure you purchase from a reputed seller after reviewing the information on their site and customer testimonies to get premium Green Elephant Kratom.
Is Green Elephant Kratom Bitter In Taste?
Most users describe the taste of Green Elephant Kratom as earthy and slightly tart. Kratom powder is typically mixed with liquids or incorporated into food or capsules to help mask the taste and make it more palatable.
Why Should You Know The Source of Green Elephant Kratom Strain?
Yes, knowing the source is essential when buying Green Elephant Strain as it provides valuable information about the Kratom product's quality, potency, and potential contaminants. Different regions or countries where Kratom is grown can have variations in soil composition, climate, and cultivation practices, which can impact the alkaloid content and overall quality of the Kratom.