What is Green Elephant Kratom?
Oasis Kratom is a premium vendor of Green Elephant. This strain is extraordinary in the fact that the leaves are large and mimic an elephant's ear. If you are a fan of green vein kratom, then you will enjoy the Elephant strain. It is naturally grown, which gives it an earthy taste. This strain is derived from more mature leaves, which naturally increases the concentration of Mitragynine.
Green Elephant Kratom Powder is one of our best-sellers. We strive to always provide you with the best quality kratom products coupled with exceptional customer service. Our Green Elephant powder is blended in small batches to ensure consistency. Allowing you to get a potent product that is at its optimal freshness. 
Where Does Green Elephant Originate From?
Green Elephant is harvested in the Northwestern segment of Sumatra Island in Indonesia. This strain does well in this area due to the fertile soils and cold climates. It is a rare strain, so this product may be one that is difficult to locate. Oasis Kratom has you covered. Our Green Elephant powder is very popular among avid users of kratom.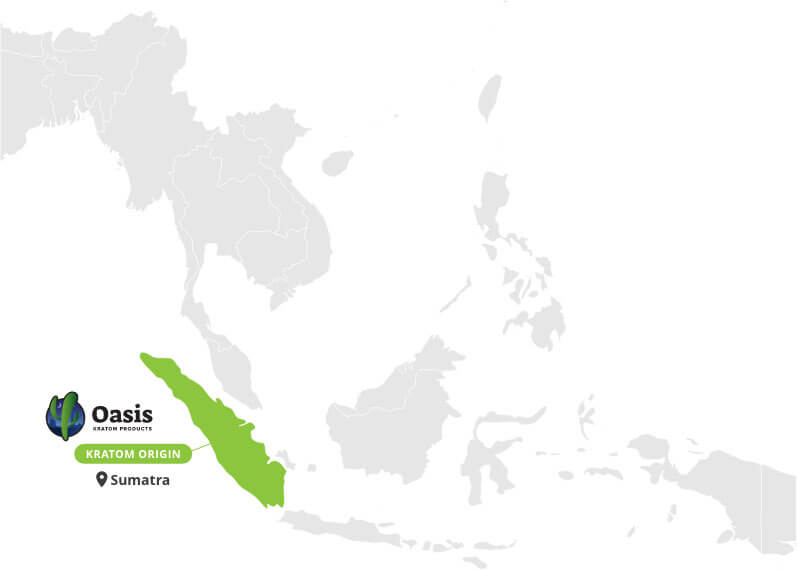 Why Is This Strain Called Green Elephant Kratom?
The Green Elephant Kratom leaves received their name because they are quite large. It is considered to be one of the most balanced forms of Green Kratom that the mitragyna speciosa tree produces. Kratom is classified by its vein color, so for this strain, the veins are green. This is why it is called the Green Elephant. 
How Is Green Elephant Made?
Green Elephant is sourced from the mitragyna speciosa tree, which is closely related to the coffee plant. It naturally occurs, which means it is not mixed with any other vein colors or strains. So, once the leaves are harvested, they are dried and ground into a powder. 
American Kratom Association
To get the highest quality products, you want to make sure that you purchase your kratom from a reputable vendor. While many vendors offer kratom, not all of them will be providing you with quality products. 
Since this herbal supplement is not regulated by the FDA, it may seem somewhat tricky to find a reputable vendor. The industry has a leading organization known as the American Kratom Association. This association helps advocate for kratom and also sets standards for vendors. 
To become a part of the American Kratom Association you must reach their standards. We are one of 25 vendors who is registered with the American Kratom Association. When you buy from us you are getting a quality product that has been tested and approved by the industry's leading organization. 
Related Products
We have a wide range of products for you to choose from, which include White Elephant Kratom, Green Sumatra, Green Malaysia, Green Hulu, and Green Thai. Don't forget to check out our range of capsules as well. If you have any questions just let us know!
If you love Green Elephant, then you will want to give this product a try:
Check if Green Maeng Da Kratom is legal in your state.