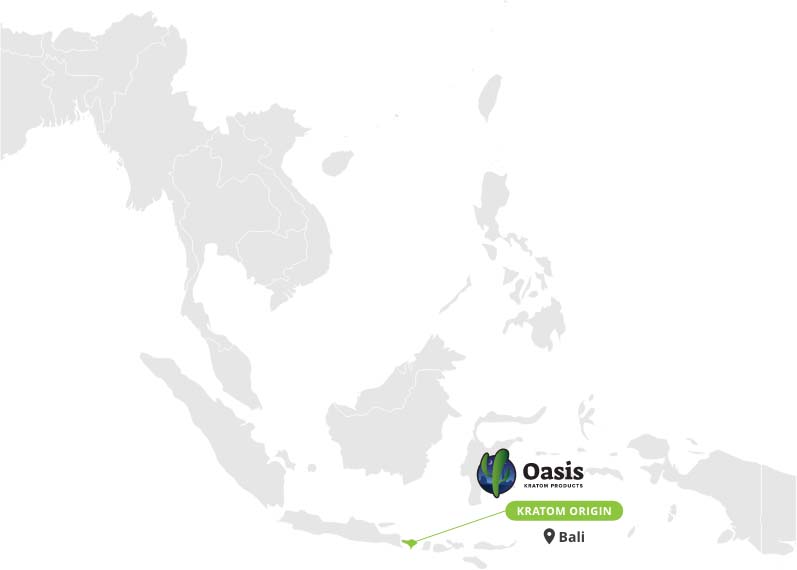 What is Gold Bali Kratom?
What is Gold Bali Kratom?
Oasis Kratom is a premium vendor for Gold Bali Kratom Powder. Bali is well known among kratom enthusiasts, as it contains the highest concentration of 7-hydroxymitragynine. Most strains are named after the region in which they originate. Bali, on the other hand, is the name given to the most potent strain within a vein color.  
Where Does Gold Bali Originate From?
Gold Bali originates from red-veined Bali and comes from the island of Bali in Indonesia. However, it can now be found in the wilds of the JongKong area. In JongKong, Gold Bali is harvested on plantations because it can control weather elements and ensure quality. 
Kratom is often characterized by its vein color as well as the region it originates from. This helps users identify the various strains on the market. Bali Gold is an excellent example of this specific Gold Bali strain.
How Is Gold Bali Kratom Made?
Golden Bali is grown in high humidity, searing year-round tropical heat, and rich volcanic soils. It goes through a fermentation process that uses sunlight and water to help lock in the different concentrations of alkaloids found in gold vein Bali.
It has a rich alkaloid content which makes this strain one of the most potent in the industry. It is the same fermentation process that Red Vein Kratom goes through, where the kratom is plucked from the tree when it is mature, then fermented directly in the sun to dry. 
The drying process enhances the 7-hydroxymitragynine to reach maximum levels. The specialized drying process is what turns the leaves into a golden hue. Hence the name Gold Bali. 
So, Gold Bali is from red-veined kratom that has undergone an extended drying process. This allows the leaves to change from red to gold. It also has a direct effect on the overall wellness support that it will offer. 
The American Kratom Association
Kratom is not regulated at a federal level, so each state is left to decide how they want to handle kratom. In doing so, many lawmakers have brought forth legislation to ban kratom. The American Kratom Association, also known as the AKA, has been successful in overturning many of these legislations. 
Also, the AKA has offered GMP protocols to help keep kratom a safe industry for consumers. While these guidelines are not mandated, we find them very important. As an active member of the AKA, Oasis Kratom adheres to all GMP protocols, so you know you're getting high-quality, safe, and pure gold vein Bali Kratom. 
The AKA is also working to get each state on board with the Kratom Consumer Protection Act. This Act aims to regulate the industry and diminish kratom bans across the nation. To find out more about the American Kratom Association's active efforts, check out their website. 
Why Buy From Oasis Kratom?
Gold-vein Bali Kratom is just one in a large variety of strains you can find at Oasis Kratom. We work intimately with the farmers across Southeast Asia to create the quality kratom we bring to the masses and make sure at every step it follows our strict guidelines to ensure our standards.
If you're ever unsatisfied with the kratom we sell, then you have 30 days to return it for your money back. Returning our products isn't a pain, either – it's simply our commitment to you that you'll be happy with your experience buying from Oasis Kratom.
Bali Kratom Effects
Many people wonder about Bali Kratom effects, but the truth is that the only person who can talk to you about Bali Kratom dosage in the United States and its effects is a licensed medical physician. Chances are your physician may not be highly familiar with kratom, but it will open a window of opportunity for them to research this herb and give you guidance. 
Bali Gold Kratom is reported to produce many effects, but those effects can only be evaluated by a doctor who knows your full medical history, what you need, and the other medications you may take — among other information. For those who have chronic pain, it will be especially important that you talk with your physician regarding the benefits that kratom can offer you. Nor do we advocate or encourage consumption. There are dozens of uses for this miracle plant. Only a licensed professional, such as your doctor, can advise you on your lifestyle choices.
How to Buy Gold Bali Kratom
Oasis Kratom offers several different kratom strains, including the much sought-after Gold Bali. We sell in several different quantities as well, from 60 grams to 5 kilograms — so there's a quantity to fit just about every budget and need. Your kratom comes packaged in GMP-compliant pouches to keep it fresh and free from contamination. 
Similar Strains to Gold Bali Strain
We offer a number of kratom powder and capsules including Gold Maeng Da Kratom, Yellow Thai Kratom, and Yellow Vietnam Kratom. Don't forget to check out our range of capsules as well. 
If you like Gold Bali Kratom you could also try these vein colors:
Check if Gold Bali Kratom is legal in your state.