What Is Red Sumatra Kratom?
Oasis Kratom is a premium vendor for Red Sumatra Kratom. This strain is widely sought after by kratom enthusiasts for its potency levels. Red Sumatra comes from mature kratom leaves and is offered in both capsules and powder. 
Where Does Red Sumatra Originate From?
Red Sumatra comes from mature Mitragyna Speciosa trees in Sumatra Indonesia. These trees are closely related to the coffee plant and grow in tropical climates. Kratom is typically characterized by the area in which it originates, as well as its vein color. This helps users to differentiate between the many strains of kratom that are on the market.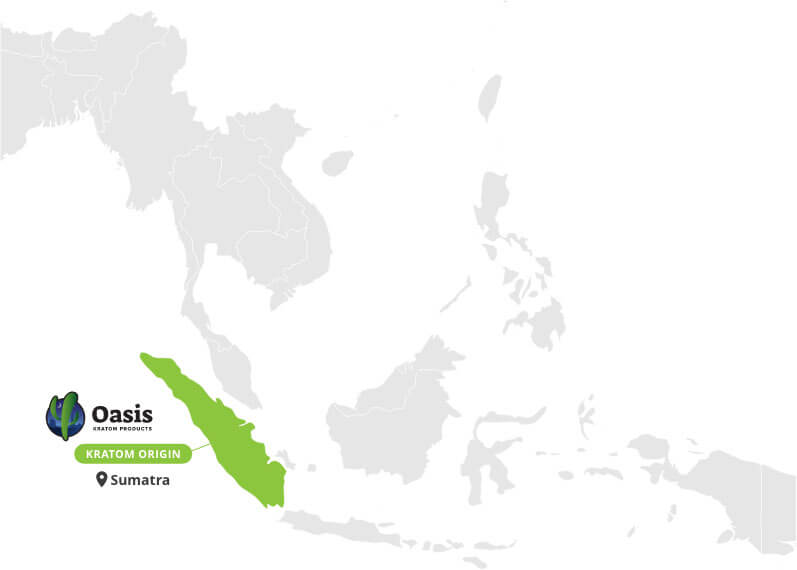 Alkaloid Profile
Red Sumatra has a unique alkaloid profile. Mitragynine accounts for at least 80% of Red Sumatra's overall alkaloid profile. Other alkaloids present include Corynantheidine, Mitraphylline, Raubasine, and 7-hydroxymitragynine. 
How Is Red Sumatra Made?
This strain of kratom comes from the mature leaves of Mitragyna Speciosa trees. Once they are harvested, they will undergo a specialized drying process. During this time, the alkaloids will gain their potency. The leaves are then crushed into a powder and can be sold as is or used to make other products like capsules and extracts. 
The American Kratom Association
The American Kratom Association, also known as the AKA, is the main advocacy group of kratom. Since kratom is an unregulated industry there's a lot of room for contaminated products. The AKA has come up with GMP protocols for the industry making it a safer place for consumers. 
The AKA also helps when there are talks of banning kratom. Each state is left to decide how they want to handle this herb. Most states allow its use, but others have banned it or intend on banning it. The AKA has been successful in overturning many legislations. They have also come up with the Kratom Consumer Protection Act, which they hope each state will adopt. 
As a part of the AKA, we adhere to all GMP regulations. In doing so, we can offer you the highest quality kratom on the market. To find out if kratom is legal in your area, check out our legality page.
Related Products
We offer a long list of kratom powders and capsules, including Red Maeng Da, Red Dragon, Red Borneo, and Red Thai. 
If you like Red Sumatra Kratom you could also try these vein colors:
 Check if Red Sumatra Kratom is legal in your state.