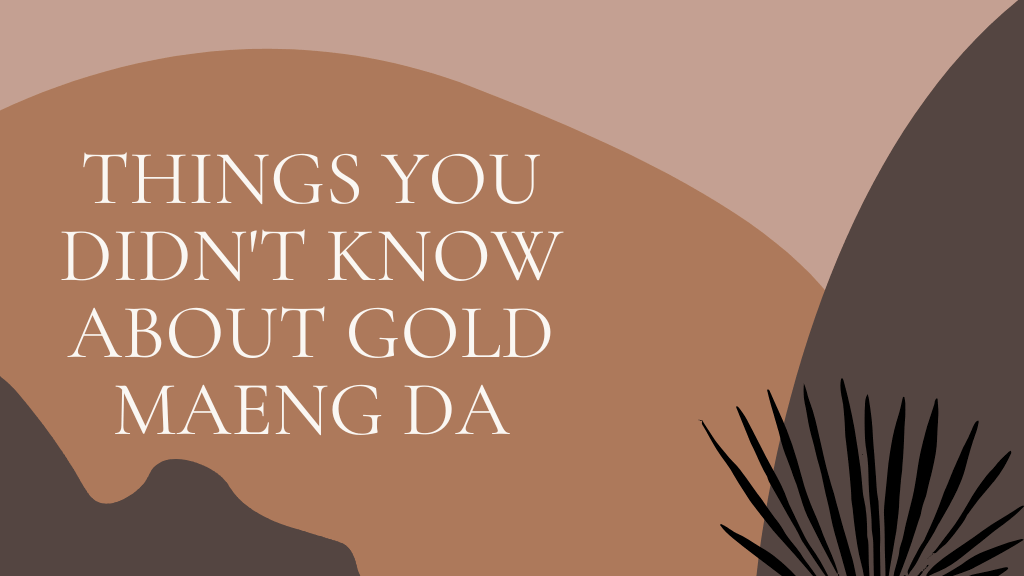 Gold vein kratom does not occur naturally like white vein, green vein, and red vein kratom. It is said that the Gold vein occurs by using a special drying technique on Red Maeng Da leaves. Farmers will place Red Maeng Da leaves in direct sunlight. This will change the vein color from red to gold. Gold Maeng Da is very popular and highly sought after. You may have a hard time finding it, as Gold and Yellow strains of kratom are not as readily available. 
This guide will help you gain an understanding of Gold Maeng Da. By the end, you will be able to decide if this is a strain you want to try. 
What Is Maeng Da Gold Kratom?
As we mentioned above, Gold vein kratom is the product of a specialized drying technique. Farmers have to know how to properly dry this type of kratom to produce it. This is one of the main reasons why Gold Maeng Da kratom is rarer than other strains. 
You may notice that it is nearly impossible to find Gold vein kratom in local shops. This is mainly because vendors need to have direct relationships with farmers who produce this type of kratom, otherwise, they do not have access to it. 
Gold Maeng Da is known for its overall balance. It provides the lasting support that users are seeking. If you have never tried this strain before, run over and add it to your cart now! You will thank us later! 
How Is Gold Maeng Da Created?
We touched on this briefly above. Gold Maeng Da starts out as Red Maeng Da. The leaves are laid in direct sunlight for an extended time. The red vein will slowly transform into a golden hue. This not only alters the appearance of the leaf but also the chemical makeup. 
Kratom users rave about this strain because of its balanced support. Maeng Da is said to originate in Thailand but is now grown all over Indonesia. Maeng Da is a Thai word that translates to "Pimp Grade." This gives the impression that it is a very robust strain. 
Buying Gold Maeng Da
You have two choices when it comes to buying kratom. You can work with online kratom vendors or try to source it from a local shop. Most people find that buying kratom online is easy and also offers a larger line of strains to choose from. 
Online vendors tend to have better pricing on their products because they do not have the overhead that shopkeepers do. Aside from pricing, online vendors tend to have higher-quality kratom. 
Many online vendors will go the extra mile and become endorsed by the American Kratom Association. This means that they comply with GMP regulations and lab test their products. Lab testing ensures that you are getting 100% all-natural Mitragyna speciosa. 
Here at Oasis Kratom, we are members of the AKA. This allows us to offer our customers the best in the industry. We take great pride in our kratom products, and only want to offer you the best. 
We have a consistent pricing model among all of our kratom strains. This means that you can choose a strain based on your needs versus a price tag. 
Gold Maeng Da Kratom Effects
When it comes to effects, we ask that you consult your medical doctor. They are aware of your past and present medical history. They will be able to review kratom strains with you and can offer recommendations on strains. No one other than a medical physician can discuss the effects of kratom with you. Do not take anecdotal reporting as safe advice. 
If you think you could benefit from kratom, be sure to be open and honest with your doctor. They will be able to make suggestions of other herbs if they do not feel like kratom is a good fit for you! 
What Is Gold Maeng Da Kratom Good For? 
This is a question we get asked a lot, but it is not one that we can answer. There is a lot of negative press surrounding kratom and the only ones who are legally allowed to talk about its effects and benefits are physicians. 
So, if you would like to know more about these things, we advise that you make an appointment with your doctor and discuss kratom. If they are not highly familar with kratom, this will bring an opportunity to do their own research and come back to you with answers. Never take advice from other people. You should always seek the advice of your medical doctor. 
If kratom is not a good fit for you, your doctor will be able to make suggestions for other herbs that may help you obtain your wellness goals. 
What Is Royal Kratom Gold Maeng Da?
Royal Kratom is a brand, not a strain. Many people get this confused. Royal kratom offers a variety of strains and one of them is Gold Maeng Da. You can check our review on this vendor by visiting our blog. 
Types Of Kratom Gold Maeng Da
Kratom is offered in many different forms. However, not all vendors will offer a variety. When it comes to Gold Maeng Da, the most popular forms are powder and capsules. Below we will discuss each, so you get a better understanding of these products. 
Gold Maeng Da Powder
Kratom powder is the most popular kratom product. This is mainly because it is the cheapest option but also allows users to create their own DIY kratom products. You will find Gold Maeng Da Powder here at Oasis Kratom. 
We offer Gold Maeng Da Kratom Powder in the following sizes:
60g – $15

125g – $20

250g – $35

500g – $50

1kg – $79

5k – $325
Gold Maeng Da Capsules
Gold Maeng Da Capsules may be a little more difficult to find. We offer Yellow Maeng Da Capsules here at Oasis Kratom, which are very similar. Some vendors will call this strain gold while others call it yellow. 
Kratom capsules are great because you can easily grab them and run out the door. A lot of users will buy the Gold Maeng Da powder and make their own capsules. This helps save a bit of money, but you also have to allot the time in making them and the added cost of buying capsules to fill.
Capsules are a convenient product and we have loads of avid users that swear by them. If you have never tried kratom capsules before, we encourage you to give them a try and see if it is a good fit for your lifestyle. 
We offer Yellow Maeng Da Kratom Capsules in the following sizes:
250g – $99.99

500g – $159.99

750g – $194.99

1000g – $217.99
Other Maeng Da Strains Offered At Oasis Kratom
Maeng Da is quite possibly the most popular kratom strain on the market. Below we will discuss the various Maeng Da strains that we offer here at Oasis Kratom.  
Buy Gold Maeng Da From Oasis Kratom 
We hope that this blog has helped you understand Gold Maeng Da a bit more. This rare strain is highly sought after but we stock it here at Oasis Kratom on regular bases. If you have any questions do not hesitate to reach out to us. 

---