Birthplace of modern architecture, home to the first brownie and the best blues music around, Chicago is full of amazing history, culture, and restaurants you're sure to enjoy!
While you're out and about the city, you'll also find many quality smoke shops that carry some of the best Kratom products. Here's a list of the best places to buy Kratom in Chicago. This curated list will tell you where to find the vape shops, smoke shops, or herbal shops that have Kratom in Chicago.
If you're overwhelmed with your Kratom choices in Chicago, you're not alone. The number of places to buy Kratom in Chicago is vast. That's why we've come up with this guide to the best six places in Chicago to buy Kratom.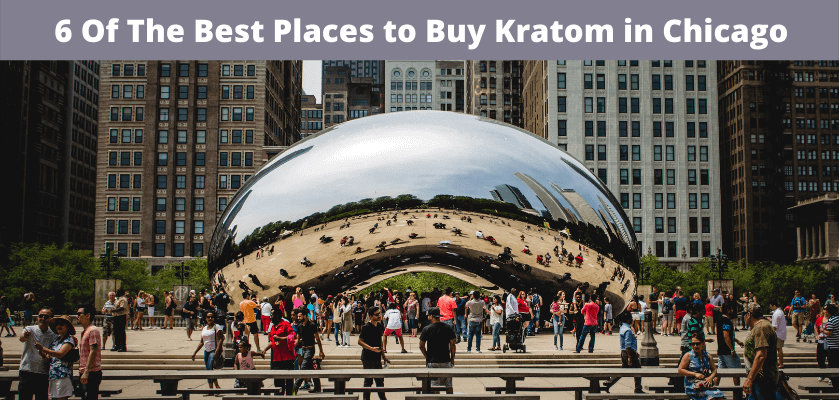 Is Kratom Legal In Chicago?
There has been much debate in Chicago in recent years regarding the legality of Kratom. It is legal to buy, sell and use for those 18+ in all parts of Illinois, except in Jerseyville, Alton, Glen Carbon, and Edwardsville so you can purchase Kratom from a local retailer, or you have the option to buy Kratom online and have Kratom shipped to your door; as long as you're not in areas where it is prohibited.
5 Top Places To Buy Kratom In Chicago This 2023
1. CBD Kratom
Address: 2048 N Damen Ave., Chicago, IL 60647
Google Rating: 4.8
Talk about Kratom variety – that's what you get at CBD Kratom. They import all of their Kratom from Southeast Asia, and you can find over fifty different Kratom strains here. Their products are also lab-tested, so you can be sure you're getting pure Kratom. This shop also gets consistently high marks for customer service, with knowledgeable staff eager to help you find the right product.
2. Elevated Minds
Address: W North Avenue
Google Rating: 4.9
You can find various red, green, and white Kratom here. If you are near North Avenue Beach in Chicago and searching for kratom, this vendor is highly recommended. Their staff is renowned for providing friendly and knowledgeable service that previous customers have praised. Moreover, they are versatile in their offerings, which has earned them recognition. The variety makes it an excellent place to try if you want to explore your options and maybe buy something new. The staff are known to be informative and helpful – and not shy to tell you all about their products to assist you further.
3. Exotic Vapors CBD & Kratom
Address: 1926 E. Touhy Ave., Des Plaines, IL 60018
Google Rating: 4.4
If you're looking for a very affordable Kratom option, you will find Exotic Vapors after traveling a bit outside of Chicago. Here, a selection of Kratom at great prices is waiting for you, along with great service from the owners and employees. This shop is proud of its service and consistently rated very high.
4. WSC CBD Kava Kratom
Address: Tinley Park, Tinley Park, Illinois
Google Rating: 4.8
This chain has three locations in the Chicagoland area, including Steger, Tinley Park, and Manteno, making it convenient to find kratom wherever you are. They offer diverse products such as capsules, powder, extracts, and specialized WSC Kratom Powder and Capsule combos. For those who prefer online shopping, the vendor has an online store where Chicago residents can purchase kratom.
This shop provides an array of Kratom products, including Bentuangie, Brown Sumatra, Chocolate Borneo, Gold Bali, Gold Elephant, Gold Maeng Da Kratom Capsules, Golden Green, Green Bali, Green Banjar, Green Indo, Green Jonkong, Kratom Powder, Rev80 Chewable Kratom Extract Tablets, Green Maeng Da Kratom Tablets, and numerous other options.
5. Smoke Station
Address: 2627 N Kedzie Ave, Logan Square
Google Rating: 4.6
They are known for their cleanliness and high range of vapes, including Glass Pipes, Vape, E-liquid, Hookahs, Delta 8 THC, CBD, Kratom, and more. They work with trustworthy companies to source their Kratom and CBD. They also provide several different Kratom strains in other preparations, from capsules to powder to extract. They have an amazing selection of quality Kratom and pair it with excellent customer service. Established in 2018, this shop is considered one of the best smoke shops in Chicago. 
Consider These Points For Kratom Online Shopping In Chicago
It is essential to research reputable vendors
Not every Kratom is manufactured and sourced with high-quality standards, which make it an essential step to research your vendor. You must ensure the vendor has a high customer rating, an available customer support team, lab-tested, and safe Kratom products. 
Checking product quality before purchasing is essential
When purchasing Kratom online in Chicago, it is vital to ensure that the product you're buying is of top quality. You can do this by checking lab tests and certificates of analysis. Another consideration is whether the Kratom is produced in a GMP-compliant facility. These tests ensure that the Kratom is free from any harmful contaminants and that the levels of the active ingredients are accurate. 

Reading customer feedback can help in making an informed decision
Reading customer reviews can help you understand the users' firsthand experiences with the products and the brand's services. This way, you can find the brand that suits your requirements.
Comparing prices and offers from different vendors can save money
This is an essential step to finding a vendor who provides you with high-quality products without breaking the bank. Choose the vendor who offers consistent deals, giveaways, and occasional discounts.
Before buying, read the shipping and return policies
Review shipping policies to know an estimated delivery time and understand return policies for any issues or dissatisfaction with the product.
Final Words
Chicago offers a plethora of options when it comes to Kratom stores. From trendy boutiques to classic head shops, there are plenty of choices for those looking to explore the world of Kratom. Kratom enthusiasts in the Windy City rave about various strains available such as Green Maeng da Kratom, White Maeng da Kratom, Gold Bali, etc. Ensure to buy from only those vendors who provide you with high-quality, ethically sourced, lab-tested products.
FAQs
Can I discreetly buy Kratom online in Chicago?
Yes, you can discreetly buy Kratom through online platforms in Chicago. Many vendors deliver products without revealing your information or the content of the product.
Is it possible to find high-quality Kratom at a discounted price in Chicago?
Yes, and for this you must find a reputable vendor who provides products on discount and sale.
How do you get discounts and coupons on Kratom products when shopping online?
Check if the vendor has coupon codes, loyalty, and reward programs on their website. You can avail them simply by referring the brand to a friend, signing up, etc. 
What are the legal considerations for buying Kratom online in Chicago?
To buy Kratom online in Chicago, you must be above 18 years and reside in a non-prohibited area where Kratom is legal at the federal level.
Can anyone sell Kratom online in Chicago?
Anyone can sell Kratom online in Chicago, but you must follow all the legal laws and quality standards.
What payment methods are available for online Kratom shopping in Chicago?
You can pay through American Express, Mastercard, Visa, and other payment methods available in your area.
Which is the top-selling Kratom product in Chicago?
Regarding top-selling products, it cannot be easy to pinpoint one as the clear winner. However, Kratom powder, gummies, and capsules are getting more popular in Chicago.
Is it a good option to buy Kratom from local stores in Chicago?
Yes, buying Kratom from local stores in Chicago is a good idea.
Are there any regulations on how much Kratom you can buy in Chicago?
No, there are no specific regulations on how much Kratom an individual can purchase in Chicago.


---