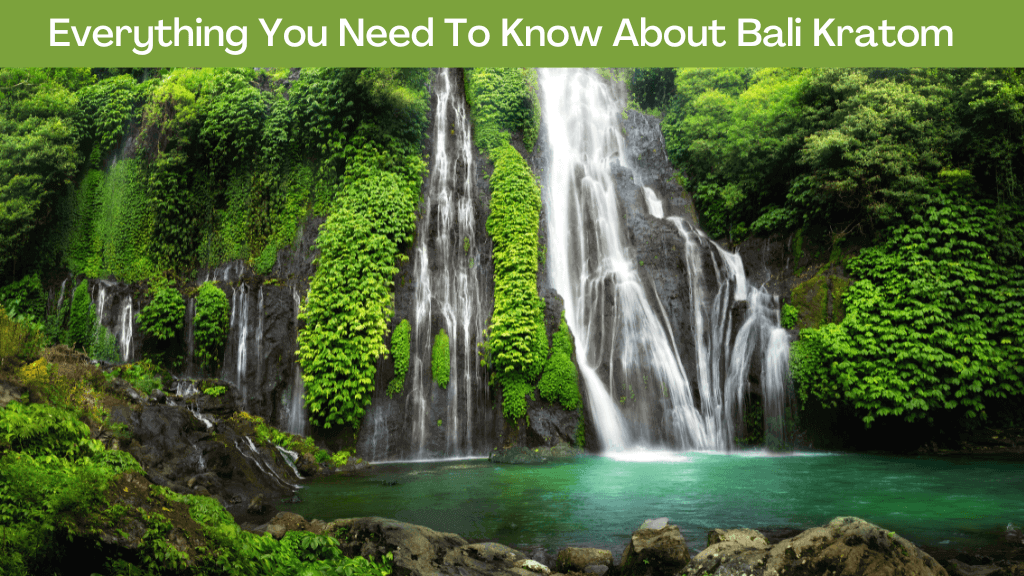 Bali kratom is one of the most popular kratom strains available on the market. It comes in red, white, and green vein kratom. This guide was created to help you gain a true understanding of Bali kratom and the type of support it can offer you. By the end, you will know if kratom is right for you.
Where Does Bali Kratom Originate?

Kratom is typically named according to its vein color and the area that it originates from. So, it is easy to see that Bali kratom comes from the Bali Islands in Indonesia. For centuries farmers have been producing Bali kratom and shipping it to many different parts of the world. This type of kratom is well known by avid users and is typically utilized by beginners to understand what type of support kratom can offer. 
If you have never tried Bali before, we suggest starting with a white strain as it is more subtle in the support that it has to offer. From there, you can try the different vein variations as you see fit. As always, we ask our customers to check in with their family doctors before making a purchase. They will be able to guide you on what strains to try. 
How Is Bali Kratom Harvested?
While kratom does grow in the jungles of Southeast Asia, most farmers grow Mitragyna speciosa on a plantation. This allows them to carefully monitor their kratom trees and harvest them at the right time. Bali is offered in three different vein colors. 
White vein kratom comes from the youngest leaves and will be harvested first. Green vein kratom comes from leaves that are at the midpoint of their life cycle. Last but not least, Red vein kratom is harvested from the most mature leaves. 
So, you can see the harvesting point will depend on the type of Bali kratom that the farmer is trying to produce. Once the leaves are plucked from the trees they will be left to dry. Farmers use various drying methods to achieve unique strains of kratom. 
Once the leaves are dried they will be packaged and sent to the vendor. The vendor can then use an industrial grinder to process the leaves and create kratom powder. 
What Is Red Bali Kratom?
Red Bali Kratom is the most potent form of Bali in the kratom industry. It is created with the most mature leaves, which means that the alkaloid content will be very robust. Many avid users seek red vein kratom because of its potency. 
In addition, you will find that most vendors will offer some strains of Bali kratom. Here at Oasis, we offer all three vein colors of Bali. Allowing you to choose a Bali strain that fits your specific wellness goals. 
What Is Green Bali Kratom?
Green Vein Bali Kratom is created with leaves that are at the midpoint of their life cycle. Making this a very balanced strain of kratom. It will be more potent than White vein Bali but less potent than Red vein Bali.  
Green Bali Kratom is very popular and most online and local vendors will offer it to their customers. If you are new to kratom, this may be a great strain for you to try. It will give you an understanding of Bali kratom and the support it offers. 
What Is White Bali Kratom?
White Vein Bali Kratom is created with young leaves. This means that they will be subtle in the support that it offers. However, this subtle support is welcomed by hundreds of kratom users. It's not always about choosing a kratom product that has the most potency. 
If you have not tried White Bali kratom before, we encourage you to add it to your cart now and step through the checkout process. It is a strain that can offer the support you have been searching for. Sometimes less is more. 
What Forms Does Bali Kratom Come In?
Kratom strains are offered in many different forms. It will all depend on the vendor you are buying from. However, most vendors will offer Bali in kratom powders and kratom capsules. Additionally, you may be able to find Bali kratom offered in extracts, tinctures, gummies, tablets, and shots. 
Can You Buy Bali Kratom Online?
Yes, you will be able to buy Bali Kratom online. Most kratom vendors offer this strain as it is very common. So, with a quick Google search, you will find hundreds of vendors selling Red Bali Kratom, Green Bali Kratom, and White Bali Kratom. You may even find some specialty blends that utilize the Bali strain. Below we will review a few online kratom vendors for you to try when looking to purchase Bali kratom. 
Online Vendors Who Offer The Best Bali Strains
Oasis Kratom
Here at Oasis, we offer a large range of products including Red vein, Green vein, White vein, and Yellow vein kratom. You will find the Bali Strain offered in all four vein types. Gold Bali is a cherished strain that is rarer than other forms of Bali. This strain is created through a specialized drying technique. We offer Bali in both powders and capsules. We are also proud members of the American Kratom Association, which means that we comply with all GMP regulations. We lab test our products which proves the quality and purity of our kratom. Best of all, we have outstanding customer support who is ready to help you with any questions or issues you may have. 
Kats Botanicals 
Kats Botanicals is a well-known vendor in the kratom industry. They offer Red, White, and Green Bali in both powders and capsules. They also offer Wild Red Bali. This strain is grown in Indonesia's JongKong region and left to do its thing until it is ready to be harvested. This is a strain that you will not find with other vendors. So, if you are curious to know what type of support this strain can offer, you will need to visit Kats Botanicals. 
Happy Hippo Herbals 
Happy Hippo Herbals offers a variety of Bali Kratom. They have some strains that you probably have never heard of. They too are part of the AKA and follow industry standards. They offer Red, Green, White, and Gold Bali. They give them clever names, which may confuse some users. However, just read their descriptions and you will be able to determine which vein of kratom was used to create the Bali strain. 
If you are looking for more suggestions for online vendors be sure to check out our blog titled: Best Places To Buy Kratom Online.
Can You Buy Bali Kratom Locally?
Since Bali kratom is one of the most popular kratom strains you will be able to find it locally. However, this will be determined by the type of shops that are in your area and what they choose to sell. If you cannot find it, you may mention it to the shop owner and see if it is a strain of kratom they could get in for you. However, be aware that local shops are not going to do lab testing on their products. So, you may want to stick to ordering your kratom online. 
Where Can You Buy Bali Kratom Plants?
It's going to be very difficult to find fresh Bali Kratom Plants. Kratom is not an easy plant to grow. It requires a tropical climate and very rich soil. Some online vendors offer live kratom plants. Just use caution, as you do not want to spend a lot of money on a plant that is going to die. So, be sure that you purchase plants from a company that offers some type of guarantee. 
Is Bali Kratom Legal?
Yes, Bali kratom is legal on a federal level across the United States. However, some states and areas have chosen to ban kratom products. So, it is up to you to do your research and make sure that kratom is legal in your area before you make a purchase. It is good to note that no vendor will ship products to areas where they have been banned. Check out our legality articles to learn more about the laws surrounding kratom. 
Buy Bali Kratom
Be sure where ever you buy your kratom that you only deal with vendors who are trustworthy and who conduct lab testing on their products. Another good measuring point is to make sure they are part of the American Kratom Association. This means that they comply with industry standards. As a result, you are getting high-quality kratom that is safe. 
Shop our product line now. Once you find a strain you want to try be sure to add it to your cart. The checkout process is easy, but if you need any help reach out to us by phone or email. 

---