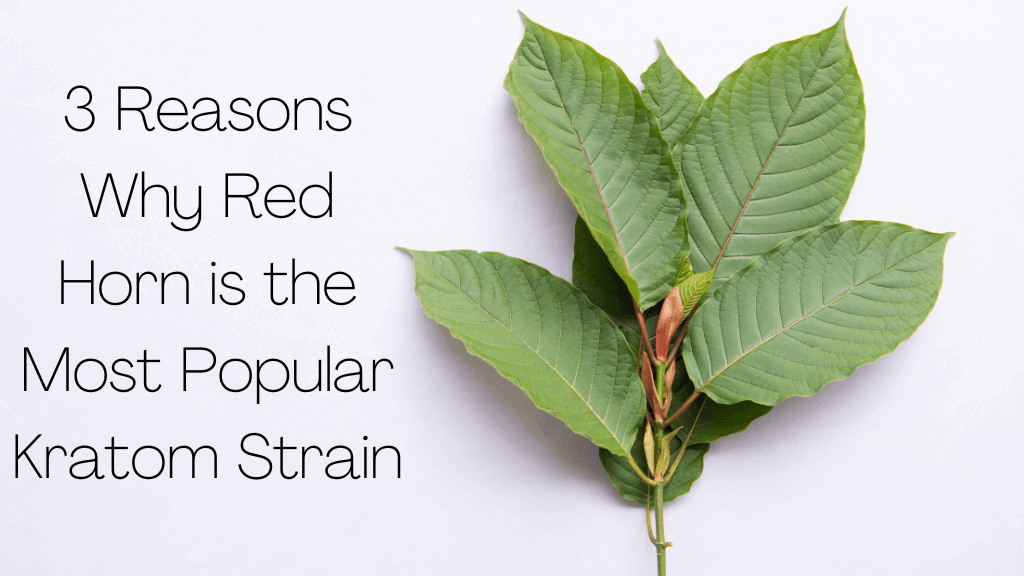 Red Horn Kratom is one of the most popular strains in the kratom industry. It offers robust support that is not seen in other forms of kratom. This guide will step you through the reasons why so many people seek this strain. In the end, you will be able to determine if Red Horn is a strain you want to kratom.
What Is Red Horn Kratom?
Red vein kratom is created using the most mature leaves. This kratom strain comes from the Borneo Islands. Its name comes from the unique spikes that are found at the ends of the leaves. These tiny horns give the leaf a robust alkaloid profile that is not seen in other forms of kratom. 
Kratom leaves will develop differently based on the area that it is being grown. Oak trees are known for this as well, the leaves of an oak tree can be different colors depending on the area where it is grown. So, this is not that strange in the plant world. 
Horn kratom is also offered in Green Horned Kratom and White Horned Kratom. The vein colors will determine the maturity of the leaf when it is harvested. White vein kratom is known to provide subtle support as it is created using young leaves.
Green vein kratom is the most balanced. It is created with leaves that are at the midpoint of their life. Red vein kratom is created using the most mature leaves. Red kratom is known for its potency levels. 
Red Horn Kratom Effects
We recommend all of our customers consult with their family doctor before making a purchase. A doctor is the only one authorized to review benefits, effects, and dosing, and recommend strains. No vendor is allowed to discuss these things because there is not a lot of scientific research surrounding kratom. 
Why Is Kratom Red Horn So Popular?
Kratom strains tend to gain popularity for a multitude of reasons. Here we will discuss 3 reasons that make Red Horn Kratom so popular. 
#1 Unique Alkaloid Profile
As we mentioned above, horn kratom has a unique alkaloid profile because of the tiny spikes at the end of the leaf. It is very robust and one of the main reasons why it is so highly sought after. It offers the support that so many are seeking. If you have not tried horn kratom before, you may want to start with a green or white vein strain to see what type of support it has to offer you. 
#2 Limited Growing Area
Horn kratom is not like other strains, as it only grows in specific areas. This means that there is a limited supply of horn kratom and this makes it heavily sought after. Also, not all vendors will have access to horn kratom, so you will need to shop around to find this strain. However, you can get horn kratom here on Oasis in all 3 vein colors. 
#3 Potency
Red vein kratom is notorious for being potent. Horn kratom is unique and the red strain is well known for its long-lasting support. Potency happens to be a big factor when it comes to the popularity of strains. If you are a fan of red vein kratom, then Red Horn is a must-try! 
3 Types Of Red Horn Kratom
Kratom comes in many different forms. Here will discuss the different forms of red horn kratom that are offered by various vendors. 
Red Horn Kratom Powder
Red Horn Kratom Powder is the most economical choice. It is offered here on Oasis kratom. We offer several packages to allow you to select a product that will truly suit your needs. The more you buy, the more you can save. Also, our pricing is consistent among all of our strains. 
60g – $15.00

125g – $20.00

250g – $35.00

500g – $50.00

1kg – $79.00

5kg – $325.00
Red Horn Kratom Capsules
Capsules are very popular among those who lead busy lifestyles. Also, capsules allow you to be more discreet with your kratom usage. This happens to be a big selling point for kratom capsules. 
250g – $99.99

500g – $159.99

750g – $194.99

1000g – $217.99
Red Horn Kratom Drinks
Kratom shots or extracts tend to be one of the priciest options in the kratom industry. This is mainly because more manufacturing goes into these products and they are a highly concentrated form of kratom. We offer kratom extract here at Oasis Kratom. 
10ml – $15.00

50ml – $70.00

250ml – $325.00
Where Do You Buy Red Horn Kratom?
Since this is a unique strain you may be wondering where you can buy it. Below we will go over a few options for you to explore. 
Buy Red Horn Kratom Online
You will more than likely have an easier time finding red horn kratom through an online vendor. Since this strain is not easily accessible, vendors will need to have direct relationships with the farmers in South East Asia. Also, online kratom vendors tend to offer higher quality kratom when compared to local shops. 
Many vendors will go the extra mile and become associated with the American Kratom Association. This means that they comply with all GMP regulations and also lab test their products. So, if you want quality kratom, go with a vendor who is endorsed by the AKA. 
Buying kratom online is one of the best ways to score some high-quality kratom. 
Buy Red Horn Kratom Locally
If you live in a built-up area, you may have loads of shops that offer kratom products. However, if you live remotely, chances are you do not have many shops that offer kratom and would need to order online. Kratom is typically offered in smoke shops, head shops, tobacco shops, and herbal shops. 
Red Horn is somewhat unique, so you may have difficulties finding it locally. Also, local shops tend to charge more than online vendors. This is because they have to factor in things such as utilities, rent, and employee wages. 

---