If you are in a state where kratom is in jeopardy then you may be aware of the Kratom Consumer Protection Act (KCPA). Other states, however, may not be aware of what this Act is or what it does for the kratom industry. It is a very important regulation that the American Kratom Association is working hard to get every state on board with.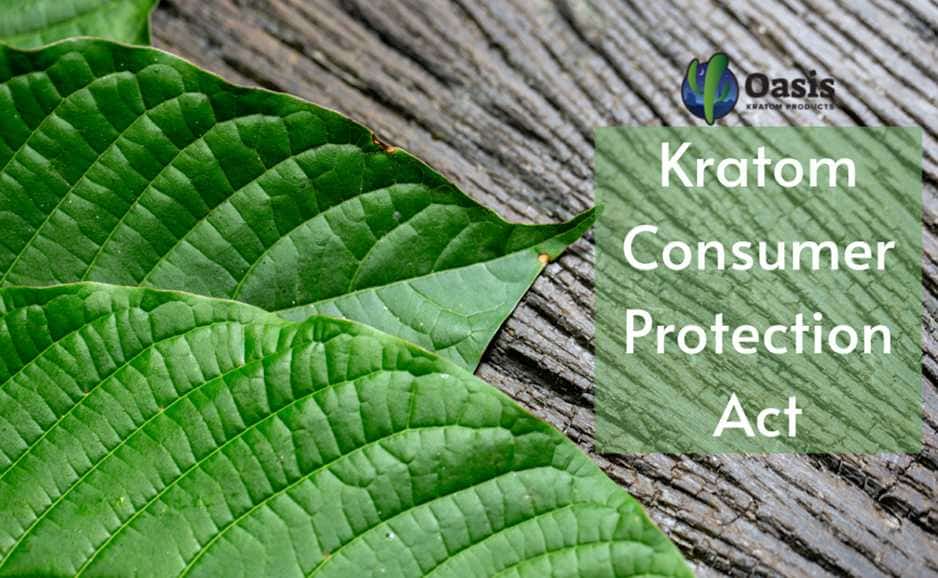 This Act is currently under review in several states, while other states have already jumped on board and have actively adopted the KCPA to help regulate kratom in their area. If this is the first time you are hearing about this Act, do not think it is something new. It has been in development for a while. 
Let's take a deeper look at the Kratom Consumer Protection Act, who is behind it, and why it is important. 
What Is Kratom Consumer Protection Act?
The Kratom Consumer Protection Act is a bill that regulates the kratom industry throughout the United States. The Act addresses the following areas:
Manufacture, distribution, sale, and possession of kratom

Manufacture, distribution, and sale of contaminated or adulterated kratom

Any age limits

Fines and penalties

Testing kratom

Labeling kratom products
The purpose of the KCPA is to ensure kratom vendors are only supplying high-quality products that do not contain contaminants. 

What Is in the Kratom Consumer Protection Act?
The Kratom Consumer Protection Act has its own standard text, but states may amend it to develop their own version. This allows each state to create an act that caters to their state's specific needs when it comes to the kratom industry. 
Here are some of the standardized text that can be found in the Kratom Consumer Protection Act:
Prohibits the sale of kratom to minors, anyone under the age of 18.

Disclosing if any food item contains kratom.

Prohibiting the sale of kratom products that have been adulterated and/or contaminated with any dangerous substance(s) that are not kratom.

Disallowing any kratom products that are packed with or contain dangerous substance(s) that affect the strength and/or quality of kratom in a way that can hurt or injure the customer.

Prohibiting any kratom products that are mixed with or packed with any substance(s) scheduled in the respective state.

Forbidding the sale of any kratom product that contains more than 2% of 7-hydroxymitragynine.

Prohibiting the sale of any kratom product that contains synthetic kratom alkaloids or a synthetic version of any other natural kratom compound.

Labeling the kratom product and stating the ingredients and origin of kratom.

Disclosing the amount of mitragynine and 7-hydroxymitragynine that each kratom product contains.
When a kratom vendor does not comply with the KCPA regulation, they can face hefty fines or even criminal charges. For example, they may have to pay a fine of up to $1000, and certain violations may lead to imprisonment of up to 90 days. However, if your state passed the KCPA, it may not include all that is listed above. Each state has the option to draft its version of the KCPA. 
Who's Behind It and How Did it Come to Be?
The fight to keep kratom legal began around 2013. This is when the first bill to ban kratom was introduced. A few years later, the DEA provided a statement that they wished to classify kratom as a Schedule I Controlled substance. 
However, the American Kratom Association (AKA) along with the Botanical Education Alliance (BEA), as well as thousands of kratom supporters came together to advocate for kratom. As a result, the DEA did not go through with a nationwide ban. 
A petition against the kratom ban gathered more than 145,000 signatures. The White House received an astonishing 6,000 letters about this herb. In addition, in the comment section allowed by the White House, there were over 23,000 comments and 99% of them were all positive. 
The FDA does not recognize kratom, which means that there are no regulations for vendors to comply with. This has resulted in many incidents of contaminated or adulterated kratom being sold on the market. 
The AKA and the BEA began searching for a way to improve the kratom experience for users and help regulate the industry. The AKA first released the Good Manufacturing Practice program in 2018. However, it was only a set of standards for vendors to go by and was not a mandatory guideline. 
Both organizations looked at the industry and what needed to be addressed directly. This is when the development of the Kratom Consumer Protection Act began. They also started lobbying it to lawmakers in various states across the nation. 
March 26, 2019, marked the starting point of the battle for kratom legalities within the United States. Utah was the first to adopt the KCPA, and more states are reviewing it for consideration. 
States That Have Passed The Act
The AKA is working with states individually to help them pass the KCPA. This is because the federal government has given the state's responsibility to regulate production and sales. So, any regulatory laws will happen at the state level.  
As of the writing of this blog, there are a few states that have passed some form of the Kratom Act. However, the specific terms of each state's regulations may vary but all originate from the act and will be similar. 
Utah 
Utah passed its version of the KCPA on March 26, 2019. As the first state to pass the Kratom Act, it set the stage for the entire nation. They hope that other states will follow in their footsteps. 
Georgia
Georgia signed their KCPA legislation on April 26, 2019. They did make some changes to the original Act. However, all those involved were quick in their decision to adopt the KCPA and help ensure safety throughout the Kratom industry. 
Arizona
Arizona passed its KCPA on May 1, 2019. It was thought that Oregon may beat them in the race when it came to adopting the Act, but Arizona was quick to make a decision and move it through the legislative system. 
Oregon
Oregon is very close to adopting its version of the KCPA. The State Senate Judiciary Committee unanimously passed the bill, so it will be taken to officials to vote on soon.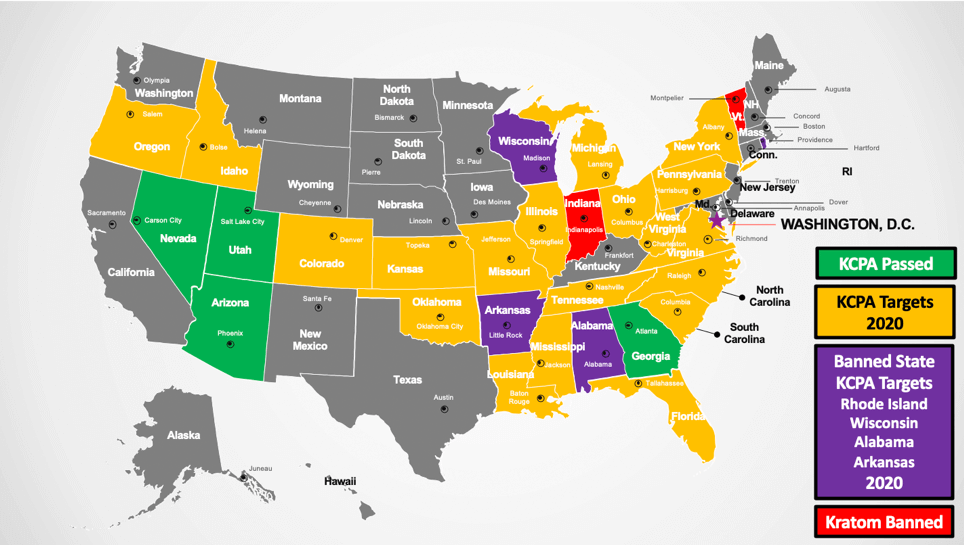 Update from AKA as of January 2020
The goal set by the AKA for the upcoming 2020 legislative sessions in the states is to secure passage in 21 additional states for the Kratom Consumer Protection Act (KCPA), bringing the total to 25 states who have enacted consumer protections for kratom consumers.
STATES WHERE LOBBYISTS HAVE BEEN RETAINED:
Oregon

Missouri 

Ohio 

Idaho

Illinois

Tennessee

Colorado 

Michigan

Alabama

Kansas

Wisconsin 

Florida
STATES WHERE LOBBYIST FUNDING IS NEEDED:
Louisiana  

West Virginia 

South Carolina 

Mississippi

Virginia

Pennsylvania

 

Oklahoma

North Carolina  

New York 
STATES WHERE AKA IS HANDLING CONTACTS WITH STATE OFFICIALS:
 Arkansas (no legislative session in 2020)

Rhode Island

Texas (no legislative session in 2020)
Do We Need the KCPA and Why?
Many people ask, is the Kratom Consumer Protection Act needed and why? It is necessary because the kratom industry does not have regulations and needs them to keep consumers safe. While there are a lot of vendors who do care about delivering high-quality products, there is still a lot of room for fakes and scammers in this industry. 
Without regulations, vendors can offer low-quality products that are harmful. While some low-quality products will not be harmful, you still want to get a product that you paid for and are happy with. 
The KCPA aims to protect customers and also keep kratom legal across the nation. When the Act is passed in a state, vendors are required by law to comply with the standards of the KCPA. This allows the end-user to get kratom products that are 100% Mitragyna speciosa, uncontaminated, and high-quality. 
This is why the Kratom Consumer Protection Act is supported by lawmakers and kratom users across the nation. 
Oasis Kratom Supports the Kratom Consumer Protection Act
Here at Oasis Kratom, we offer a variety of kratom products that comply with the regulations set by the KCPA and the GMP. We are one of only 25 vendors who are currently registered with the AKA. 
This means that we provide products that meet their guidelines. When you purchase your kratom from us, it will arrive at your home correctly labeled and sealed for optimal freshness. All of our products are tested 9+ times for salmonella, E. coli, staph, yeast, mold, and to confirm their 100% all-natural Mitragyna Speciosa. Visit our Lab Test page to learn more about our quality assurance measures or to request a copy of our most recent lab test results.
While other vendors may look at the KCPA and not comply with their regulations because they simply do not care or have the means to provide high-quality products, we stand behind this Act and rigorously work to ensure we are always within regulations.  
So why do we support the KCPA? Because we care about our customers. While kratom companies can cut corners, this is not something we are interested in. We ensure all of our products are correctly labeled, reach the high-quality standards outlined by the AKA, and are processed for optimal freshness.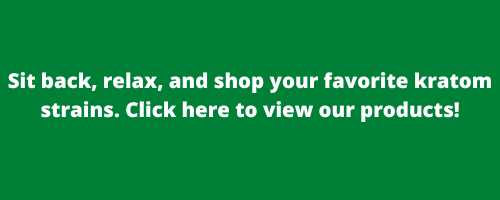 For kratom to remain legal, the industry must be regulated across the board. The Kratom Consumer Protection Act is a good thing and we fully support it here at Oasis Kratom. 
Check out our products, which include red, green, white, and yellow strains. Let us know if you have any questions and we would be happy to help you out. 
Gold Bali Kratom origin is from the red leafs which are dried by the sun. This unique process gives Gold Bali Kratom powder a one of a kind feel.

$

15.00 –

$

325.00 Select options

Green Maeng Da Kratom has a potent alkaloid makeup. It is the strongest strain in the green vein family. Lab-tested and Money-back guarantee.

$

15.00 –

$

325.00 Select options

Maeng Da is a Thai nickname translating into "pimp grade". It comes fresh from the plantations of Indonesia.Lab Tested - Money Back Guarantee!

$

15.00 –

$

325.00 Select options
The Future of the Kratom Consumer Protection Act
The American Kratom Association continues to push forward with its efforts to get the Kratom Consumer Protection Act passed in every state. You can keep current on what is happening by visiting the AKA website. 


---