A Kratom‌ ‌tincture‌ ‌is‌‌ one‌ ‌of‌ ‌the‌ ‌most‌ ‌potent‌ ‌and‌ ‌effective‌ ‌ways‌ ‌to‌ ‌enjoy‌ ‌kratom.‌ ‌This‌ ‌is‌ ‌one‌ ‌of‌ ‌the‌ ‌reasons‌ ‌why‌ ‌tinctures‌ ‌are‌ ‌so‌ ‌popular‌ ‌in‌ ‌the‌ ‌world‌ ‌of‌ ‌kratom‌ ‌products.‌ ‌ ‌If‌ ‌you‌ ‌are‌ ‌looking‌ ‌for‌ ‌various‌ ‌forms of‌ ‌kratom,‌ ‌you‌ ‌may‌ ‌consider‌ ‌a‌ ‌tincture.
While‌ ‌tinctures‌ ‌are‌ ‌popular,‌ ‌they‌ ‌are‌ ‌not‌ ‌always‌ ‌easy‌ ‌to‌ ‌find.‌ ‌This‌ ‌is‌ ‌mainly‌ ‌due‌ ‌to‌ ‌the‌ ‌FDA's‌ ‌efforts‌ ‌to‌ ‌place‌ ‌restrictions‌ ‌on‌ ‌kratom‌ ‌products.‌ ‌Kratom‌ ‌powder‌ ‌is‌ ‌widely‌ ‌available‌ ‌in‌ ‌a‌ ‌multitude‌ ‌of‌ ‌locations,‌ ‌but‌ ‌it‌ ‌is‌ ‌becoming‌ ‌more‌ ‌and‌ ‌more‌ ‌difficult‌ ‌to‌ ‌find‌ ‌kratom‌ ‌extracts‌ ‌and‌ ‌tinctures‌ ‌from‌ ‌high-quality‌ ‌vendors.‌ ‌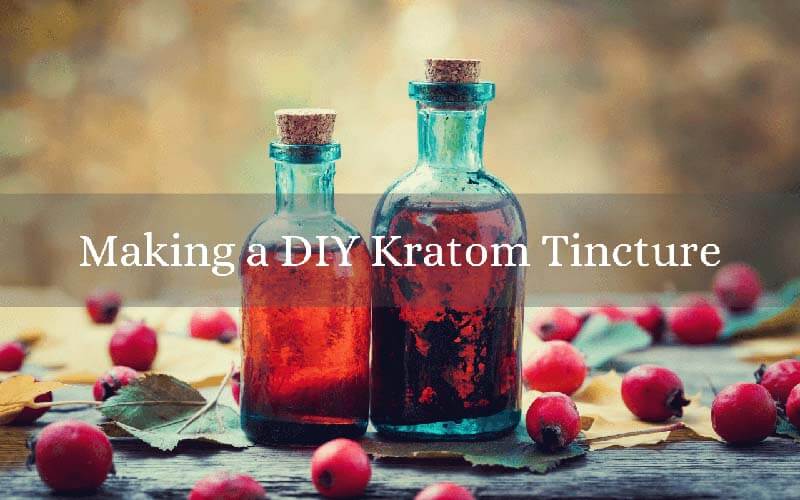 However,‌ ‌you‌ ‌do‌ ‌not‌ ‌have‌ ‌to‌ ‌worry‌ ‌because‌ ‌you‌ ‌can‌ ‌turn‌ ‌your‌ ‌kratom‌ ‌powder‌ ‌into‌ ‌a‌ ‌quality‌‌tincture.‌ ‌It‌ ‌is‌ ‌not‌ ‌a‌ ‌hard‌ ‌process,‌ ‌and‌ ‌you‌ ‌can‌ ‌do‌ ‌it‌ ‌in‌ ‌the‌ ‌comfort‌ ‌of‌ ‌your‌ ‌home‌ ‌with‌ ‌a‌ ‌little‌ ‌help‌‌from‌ ‌this‌ ‌blog.‌ ‌Keep‌ ‌reading‌ ‌to‌ ‌find‌ ‌out‌ ‌what‌ ‌all‌ ‌you‌ ‌need‌ ‌to‌ ‌make‌ ‌your‌ ‌own‌ ‌DIY‌ kratom tincture.‌‌
Please note that kratom is not used to treat, cure, or mitigate any disease, illness, ailment, and/or condition. Please see FDA import alert 54-15. We make no representations as to intended use or suitability for use.
What‌ ‌is‌ ‌a‌ ‌Kratom Tincture?‌ ‌
A‌ ‌kratom‌ ‌tincture‌ ‌is‌ ‌an‌ ‌extract‌ ‌diluted‌ ‌with‌ ‌a‌ ‌liquid‌ ‌base.‌ ‌The‌ ‌tincture‌ ‌will‌ ‌contain‌ ‌all‌ ‌the‌ ‌alkaloids‌ ‌and‌ ‌natural‌ ‌compounds‌ ‌that‌ ‌are‌ ‌found‌ ‌in‌ ‌kratom‌ ‌while‌ ‌allowing‌ ‌users‌ ‌to‌ ‌get‌ ‌a‌ ‌dose‌ ‌that‌ ‌is‌ ‌more‌ ‌convenient‌ ‌than‌ ‌the‌ ‌traditional‌ ‌powder‌ ‌form‌ ‌of‌ ‌kratom.‌ ‌ ‌
There‌ ‌are‌ ‌different‌ ‌types‌ ‌of‌ ‌kratom‌ ‌tinctures.‌ ‌The‌ ‌most‌ ‌common‌ ‌is‌ ‌a‌ ‌full‌ ‌spectrum‌ ‌extract,‌ ‌which‌ ‌means‌ ‌that‌ ‌the‌ ‌tincture‌ ‌contains‌ ‌all‌ ‌the‌ ‌kratoms‌ ‌compounds.‌ ‌Some‌ ‌users‌ ‌choose‌ ‌to‌ ‌make‌ ‌their‌ ‌own‌ ‌tinctures‌ ‌to‌ ‌contain‌ ‌compounds‌ ‌that‌ ‌they‌ ‌desire,‌ ‌including‌ ‌the‌ ‌alkaloids‌ ‌mitragynine‌ ‌or‌ ‌7-hydroxymitragynine.‌ ‌
This‌ ‌guide‌ ‌will‌ ‌help‌ ‌you‌ ‌create‌ ‌your‌ ‌own‌ ‌full‌ ‌spectrum‌ ‌kratom tinctures.‌ ‌If‌ ‌you‌ ‌are‌ ‌looking‌ ‌to‌ ‌make‌ ‌isolate‌ ‌tinctures‌ ‌it‌ ‌is‌ ‌a‌ ‌more‌ ‌complicated‌ ‌process,‌ ‌so‌ ‌please‌ ‌note‌ ‌that‌ ‌you‌ ‌will‌ ‌not‌ ‌find‌ ‌that‌ ‌specific‌ ‌information‌ ‌in‌ ‌this‌ ‌article.‌ ‌ ‌
Why‌ ‌Use‌ ‌a‌ ‌Kratom Tincture‌ ‌Over‌ ‌Kratom‌ ‌Powder?‌ ‌
If‌ ‌you‌ ‌are‌ ‌an‌ ‌avid‌ ‌kratom‌ ‌user‌ ‌then‌ ‌you‌ ‌are‌ ‌probably‌ ‌familiar‌ ‌with‌ ‌kratom‌ ‌powder‌ ‌and‌ ‌capsules.‌ ‌Tinctures‌ ‌will‌ ‌work‌ ‌similarly‌ ‌as‌ ‌your‌ ‌preferred‌ ‌strain‌ ‌of‌ ‌kratom‌ ‌powder.‌ ‌However,‌ ‌it‌ ‌is‌ ‌typically‌ ‌higher‌ ‌in‌ ‌potency.‌ ‌ ‌
There‌ ‌are‌ ‌some‌ ‌bonuses‌ ‌to‌ ‌using‌ ‌tinctures‌ ‌vs‌ ‌powder:‌ ‌
Concentrated‌ ‌form,‌ ‌meaning‌ ‌you‌ ‌can‌ ‌use‌ ‌a‌ ‌lower‌ ‌dose‌ ‌of‌ ‌tincture‌ ‌and‌ ‌get‌ ‌the‌ ‌same‌‌overall‌ ‌wellbeing‌ ‌that‌ ‌you‌ ‌receive‌ ‌from‌ ‌your‌ ‌powder‌ ‌or‌ ‌capsules.‌ ‌ ‌
Tinctures‌ ‌are‌ ‌fast-acting,‌ ‌as‌ ‌the‌ ‌body‌ ‌will‌ ‌absorb‌ ‌kratom‌ ‌from‌ ‌liquid‌ ‌extracts.‌‌ ‌
Easy‌ ‌to‌ ‌use‌ ‌and‌ ‌store.‌‌ ‌
If‌ ‌you‌ ‌like‌ ‌the‌ ‌sounds‌ ‌of‌ ‌these‌ ‌things,‌ ‌then‌ ‌making‌ ‌your‌ ‌own‌ ‌tincture‌ ‌is‌ ‌something‌ ‌that‌ ‌you‌ ‌should‌ ‌try.‌ ‌ ‌
Which‌ ‌Strain‌ ‌of‌ ‌Kratom‌ ‌Should‌ ‌You‌ ‌Use?‌ ‌
Just‌ ‌like‌ ‌other‌ ‌methods‌ ‌of‌ ‌taking‌ ‌kratom,‌ ‌different‌ ‌strains‌ ‌can‌ ‌provide‌ ‌you‌ ‌with‌ ‌different‌ ‌types‌ ‌of‌ ‌overall‌ ‌balance‌ ‌and‌ ‌wellbeing.‌ ‌You‌ ‌have‌ ‌to‌ ‌keep‌ ‌in‌ ‌mind‌ ‌that‌ ‌the‌ ‌finished‌ ‌tincture‌ ‌will‌ ‌contain‌ ‌the‌ ‌same‌ ‌alkaloid‌ ‌profile‌ ‌of‌ ‌whatever‌ ‌kratom‌ ‌products‌ ‌you‌ ‌were‌ ‌previously‌ ‌taking,‌ ‌rather‌ ‌that‌ ‌is‌ ‌powder‌ ‌or‌ ‌capsules.‌ ‌ ‌
If‌ ‌you‌ ‌have‌ ‌experimented‌ ‌with‌ ‌various‌ ‌strains,‌ ‌then‌ ‌you‌ ‌will‌ ‌have‌ ‌a‌ ‌better‌ ‌idea‌ ‌of‌ ‌which‌ ‌strains‌ ‌work‌ ‌best‌ ‌for‌ ‌you.‌ ‌When‌ ‌making‌ ‌your‌ ‌tincture,‌ ‌use‌ ‌the‌ ‌strain‌ ‌of‌ ‌kratom‌ ‌powder‌ ‌that‌ ‌provides‌ ‌you‌ ‌with‌ ‌the‌ ‌desired‌ ‌level‌ ‌of‌ ‌balance‌ ‌and‌ ‌wellbeing.‌ ‌This‌ ‌will‌ ‌give‌ ‌you‌ ‌the‌ ‌best‌ ‌results‌ ‌when‌ ‌trying‌ ‌to‌ ‌see‌ ‌if‌ ‌the‌ ‌tincture‌ ‌is‌ ‌right‌ ‌for‌ ‌you.‌ ‌ ‌
You‌ ‌will‌ ‌want‌ ‌to‌ ‌choose‌ ‌quality‌ ‌kratom‌ ‌powder‌ ‌that‌ ‌has‌ ‌been‌ ‌lab-tested‌ ‌for‌ ‌purity‌ ‌and‌ ‌potency.‌ ‌
Check‌ ‌out‌ ‌our‌ ‌‌lab‌ ‌testing‌ ‌page‌‌ ‌to‌ ‌find‌ ‌out‌ ‌more‌ ‌about‌ ‌what‌ ‌test‌ ‌we‌ ‌run‌ ‌and‌ ‌how‌ ‌we‌ ‌guarantee‌ ‌the‌ ‌purity‌ ‌and‌ ‌potency‌ ‌levels‌ ‌of‌ ‌all‌ ‌of‌ ‌our‌ ‌kratom‌ ‌products.‌ ‌ ‌
Here‌ ‌at‌ ‌Oasis‌ ‌Kratom,‌ ‌we‌ ‌offer‌ ‌a‌ ‌large‌ ‌range‌ ‌of‌ ‌high-quality‌ ‌kratom‌ ‌products.‌ ‌Explore‌ ‌our‌ ‌extensive‌ ‌selection,‌ ‌which‌ ‌includes:‌ ‌
Kratom‌ ‌Powders‌ ‌
 ‌Kratom‌ ‌Capsules:‌ ‌
‌If‌ ‌you‌ ‌are‌ ‌just‌ ‌starting‌ ‌with‌ ‌kratom,‌ ‌you‌ ‌may‌ ‌want‌ ‌to‌ ‌try‌ ‌out‌ ‌one‌ ‌of‌ ‌our‌ ‌‌kratom‌ ‌sample‌ ‌packs‌,‌ ‌which‌ ‌will‌ ‌allow‌ ‌you‌ ‌to‌ ‌sample‌ ‌a‌ ‌variety‌ ‌of‌ ‌the‌ ‌best‌ ‌kratom‌ ‌strains.‌ ‌ ‌
DIY Kratom Tincture
Now‌ ‌that‌ ‌you‌ ‌understand‌ ‌a‌ ‌bit‌ ‌more‌ ‌about‌ ‌tinctures,‌ ‌let's‌ ‌move‌ ‌on‌ ‌to‌ ‌gathering‌ ‌the‌ ‌ingredients‌ ‌to‌ ‌make‌ ‌your‌ ‌own‌ ‌right‌ ‌at‌ ‌home.‌ ‌ ‌Creating‌ ‌your‌ ‌tincture‌ ‌is‌ ‌simple,‌ ‌straightforward,‌ ‌and‌ ‌can‌ ‌be‌ ‌done‌ ‌in‌ ‌less‌ ‌than‌ ‌an‌ ‌hour.‌ ‌However,‌ ‌it‌ ‌will‌ ‌take‌ ‌a‌ ‌while‌ ‌for‌ ‌the‌ ‌tincture‌ ‌to‌ ‌extract‌ ‌all‌ ‌of‌ ‌the‌ ‌kratom‌ ‌powder's‌ ‌alkaloids‌ ‌completely.‌ ‌This‌ ‌means‌ ‌that‌ ‌the‌ ‌mixture‌ ‌will‌ ‌need‌ ‌to‌ ‌sit‌ ‌for‌ ‌about‌ ‌a‌ ‌week‌ ‌before‌ ‌gaining‌ ‌the‌ ‌finished‌ ‌product.‌ ‌ ‌
Supply List
Scale to measure kratom powder
Kratom powder (recommend using about 4 ounces of kratom powder to produce a bulk batch)
 80-100 Proof Ethanol/Ethyl Alcohol (approximately 1 liter of alcohol per 4 ounces kratom powder)
Large glass containers, such as mason jars.
Citric Acid
pH strips
Cheesecloth or fine straining material
Dark glass tincture bottles with droppers
Funnel
Step-by-Step‌ ‌Kratom‌ ‌Tincture‌ ‌Guide‌
#1‌ ‌Measure‌ ‌kratom‌ ‌and‌ ‌ethyl‌ ‌alcohol‌ ‌
Be‌ ‌sure‌ ‌to‌ ‌document‌ ‌the‌ ‌number‌ ‌so‌ ‌you‌ ‌can‌ ‌use‌ ‌it‌ ‌to‌ ‌properly‌ ‌calculate‌ ‌your‌ ‌kratom‌ ‌tincture‌ ‌dose‌ ‌later‌ ‌on.‌ ‌The‌ ‌amount‌ ‌of‌ ‌ethyl‌ ‌alcohol‌ ‌that‌ ‌needs‌ ‌to‌ ‌be‌ ‌used‌ ‌will‌ ‌depend‌ ‌on‌ ‌your‌ ‌kratom‌ ‌dose.‌ ‌For‌ ‌every‌ ‌4‌ ‌ounces‌ ‌of‌ ‌kratom,‌ ‌you‌ ‌will‌ ‌want‌ ‌to‌ ‌use‌ ‌a‌ ‌liter‌ ‌of‌ ‌ethyl‌ ‌alcohol.‌ ‌Put‌ ‌the‌ ‌powder‌ ‌into‌ ‌the‌ ‌mason‌ ‌jar,‌ ‌and‌ ‌add‌ ‌the‌ ‌ethyl‌ ‌alcohol.‌ ‌Stir‌ ‌the‌ ‌mixture‌ ‌to‌ ‌ensure‌ ‌that‌ ‌all‌ ‌the‌ ‌kratom‌ ‌is‌ ‌exposed‌ ‌to‌ ‌the‌ ‌alcohol.‌ ‌ ‌
#2‌ ‌Add‌ ‌citric‌ ‌acid‌ ‌to‌ ‌the‌ ‌mixture‌ ‌until‌ ‌the‌ ‌pH‌ ‌level‌ ‌is‌ ‌4‌ ‌
Start‌ ‌by‌ ‌adding‌ ‌a‌ ‌small‌ ‌amount‌ ‌of‌ ‌citric‌ ‌acid‌ ‌to‌ ‌your‌ ‌solution.‌ ‌Mix‌ ‌it‌ ‌in‌ ‌and‌ ‌test‌ ‌to‌ ‌see‌ ‌what‌ ‌the‌ ‌acidity‌ ‌level‌ ‌is‌ ‌measuring‌ ‌on‌ ‌your‌ ‌pH‌ ‌strip.‌ ‌Keep‌ ‌repeating‌ ‌this‌ ‌process‌ ‌until‌ ‌the‌ ‌solution‌ ‌hits‌ ‌a‌ ‌pH‌ ‌level‌ ‌of‌ ‌4‌ ‌or‌ ‌slightly‌ ‌lower.‌ ‌This‌ ‌step‌ ‌will‌ ‌help‌ ‌convert‌ ‌the‌ ‌kratom‌ ‌alkaloids‌ ‌into‌ ‌a‌ ‌salt‌ ‌form,‌ ‌which‌ ‌will‌ ‌make‌ ‌it‌ ‌much‌ ‌easier‌ ‌to‌ ‌extract‌ ‌into‌ ‌a‌ ‌kratom‌ ‌tincture.‌ ‌ ‌
#3 Seal jar and store
You‌ ‌will‌ ‌need‌ ‌to‌ ‌store‌ ‌the‌ ‌mixture‌ ‌in‌ ‌a‌ ‌sealed‌ ‌jar‌ ‌in‌ ‌a‌ ‌cool,‌ ‌dark‌ ‌place‌ ‌for‌ ‌at‌ ‌least‌ ‌one‌ ‌week.‌ ‌This‌ ‌is‌ ‌necessary‌ ‌to‌ ‌ensure‌ ‌that‌ ‌the‌ ‌tincture‌ ‌fully‌ ‌extracts‌ ‌the‌ ‌alkaloids‌ ‌from‌ ‌the‌ ‌kratom‌ ‌powder.‌ ‌Once‌ ‌the‌ ‌jar‌ ‌is‌ ‌sealed,‌ ‌give‌ ‌it‌ ‌a‌ ‌shake.‌ ‌Then‌ ‌store‌ ‌it‌ ‌in‌ ‌a‌ ‌cool,‌ ‌dark‌ ‌place.‌ ‌Be‌ ‌sure‌ ‌that‌ ‌the‌ ‌mixture‌ ‌is‌ ‌not‌ ‌exposed‌ ‌to‌ ‌direct‌ ‌sunlight.‌ ‌You‌ ‌will‌ ‌want‌ ‌to‌ ‌let‌ ‌it‌ ‌sit‌ ‌for‌ ‌at‌ ‌least‌ ‌a‌ ‌week,‌ ‌but‌ ‌some‌ users‌ ‌say‌ ‌that‌ ‌they‌ ‌let‌ ‌it‌ ‌sit‌ ‌longer‌ ‌(about‌ ‌2‌ ‌weeks)‌ ‌and‌ ‌get‌ ‌a‌ ‌better‌ ‌result.‌ ‌However,‌ ‌one‌ ‌week‌ ‌should‌ ‌be‌ ‌long‌ ‌enough‌ ‌to‌ ‌extract‌ ‌all‌ ‌the‌ ‌alkaloids.‌ ‌ ‌
#4‌ ‌Strain‌ ‌the‌ ‌mixture‌ ‌
Once‌ ‌the‌ ‌mixture‌ ‌has‌ ‌soaked‌ ‌for‌ ‌a‌ ‌week‌ ‌it‌ ‌will‌ ‌be‌ ‌ready‌ ‌to‌ ‌strain.‌ ‌Shake‌ ‌the‌ ‌jar‌ ‌before‌ ‌you‌ ‌open‌ ‌it.‌ ‌Cover‌ ‌the‌ ‌mouth‌ ‌of‌ ‌the‌ ‌jar‌ ‌with‌ ‌a‌ ‌cheesecloth‌ ‌or‌ ‌other‌ ‌mesh‌ ‌strainer,‌ ‌then‌ ‌pour‌ ‌the‌ ‌liquid‌ ‌through‌ ‌the‌ ‌strainer‌ ‌into‌ ‌a‌ ‌glass‌ ‌or‌ ‌metal‌ ‌mixing‌ ‌bowl.‌ ‌Remove‌ ‌all‌ ‌remaining‌ ‌kratom‌ ‌powder‌ ‌from‌ ‌the‌ ‌jar,‌ ‌and‌ ‌use‌ ‌a‌ ‌funnel‌ ‌to‌ ‌place‌ ‌the‌ ‌liquid‌ ‌back‌ ‌into‌ ‌the‌ ‌jar.‌ ‌ ‌
#5‌ ‌Cover‌ ‌jar‌ ‌with‌ ‌cheesecloth‌ ‌
To‌ ‌help‌ ‌enhance‌ ‌the‌ ‌potency‌ ‌of‌ ‌your‌ ‌tincture,‌ ‌you‌ ‌will‌ ‌want‌ ‌to‌ ‌allow‌ ‌as‌ ‌much‌ ‌of‌ ‌the‌ ‌liquid‌ ‌to‌ ‌evaporate‌ ‌as‌ ‌possible.‌ ‌You‌ ‌can‌ ‌do‌ ‌this‌ ‌by‌ ‌covering‌ ‌the‌ ‌jar‌ ‌with‌ ‌a‌ ‌cheesecloth‌ ‌or‌ ‌other‌ ‌fine‌ ‌mesh.‌ ‌The‌ ‌liquid‌ ‌can‌ ‌escape‌ ‌without‌ ‌allowing‌ ‌any‌ ‌debris‌ ‌to‌ ‌enter‌ ‌into‌ ‌your‌ ‌mixture.‌ ‌The‌ ‌amount‌ ‌of‌ ‌liquid‌ ‌you‌ ‌allow‌ ‌to‌ ‌evaporate‌ ‌will‌ ‌be‌ ‌your‌ ‌own‌ ‌personal‌ ‌preference.‌ ‌Just‌ ‌note‌ ‌that‌ ‌the‌ ‌evaporation‌ ‌process‌ ‌will‌ ‌not‌ ‌impact‌ ‌the‌ ‌total‌ ‌amount‌ ‌of‌ ‌alkaloids‌ ‌in‌ ‌your‌ ‌tincture.‌ ‌However,‌ ‌it‌ ‌will‌ ‌affect‌ ‌its‌ ‌overall‌ ‌potency‌ ‌level‌ ‌per‌ ‌mL.‌ ‌ ‌
#6‌ ‌Fill‌ ‌your‌ ‌bottles‌ ‌
Finish‌ ‌by‌ ‌filling‌ ‌your‌ ‌bottles‌ ‌with‌ ‌the‌ ‌mixture.‌ ‌You‌ ‌will‌ ‌want‌ ‌to‌ ‌use‌ ‌the‌ ‌funnel‌ ‌to‌ ‌make‌ ‌sure‌ ‌you‌ do‌ ‌not‌ ‌spill‌ ‌any‌ ‌of‌ ‌your‌ ‌liquid.‌ ‌Seal‌ ‌each‌ ‌bottle‌ ‌and‌ ‌label‌ ‌it‌ ‌with‌ ‌the‌ ‌date‌ ‌that‌ ‌the‌ ‌tincture‌ ‌was‌ ‌finished,‌ ‌and‌ ‌any‌ ‌other‌ ‌info‌ ‌you‌ ‌may‌ ‌want‌ ‌to‌ ‌refer‌ ‌back‌ ‌to‌ ‌in‌ ‌the‌ ‌future.‌ ‌ ‌
Green Malay Kratom comes from the forests that are found within Malaysia's mountainous countryside. Lab Tested - Money Back Guarantee!

$

15.00 –

$

325.00 Select options

Maeng Da is a Thai nickname translating into "pimp grade". It comes fresh from the plantations of Indonesia.Lab Tested - Money Back Guarantee!

$

15.00 –

$

325.00 Select options
Enjoy‌ ‌Your‌ ‌DIY‌ ‌Kratom‌ ‌Tincture‌ ‌
We‌ ‌hope‌ ‌you‌ ‌enjoy‌ ‌this‌ ‌guide‌ ‌on‌ ‌how‌ ‌to‌ ‌make‌ ‌your‌ ‌DIY‌ ‌kratom tincture.‌ ‌If‌ ‌you‌ ‌have‌ ‌any‌‌questions‌ ‌just‌ ‌let‌ ‌us‌ ‌know.‌ ‌We‌ ‌offer‌ ‌a‌ ‌wide‌ ‌range‌ ‌of‌ ‌capsules‌ ‌and‌ ‌powder,‌ ‌so‌ ‌shop‌ ‌our‌‌selection.‌ ‌We‌ ‌strive‌ ‌to‌ ‌offer‌ ‌you‌ ‌high-quality‌ ‌kratom‌ ‌and‌ ‌make‌ ‌your‌ ‌buying‌ ‌process‌ ‌simplistic.‌‌Let‌ ‌us‌ ‌know‌ ‌how‌ ‌your‌ ‌kratom tincture ‌recipe‌ ‌turns‌ ‌out.‌ ‌If‌ ‌you‌ ‌have‌ ‌tips‌ ‌or‌ ‌tricks‌ ‌leave‌ ‌them‌ ‌in‌‌the‌ ‌comments‌ ‌down‌ ‌below!‌‌‌
Find out more about American Kratom Association, which is a registered non-profit organization created to change the conversation around kratom at the federal and state level.


---