What Is White Thai Kratom?
Oasis Kratom is a premium vendor for White Thai Kratom. This strain happens to be one of the most unique varieties, so you will not find it with all kratom dealers. Most strains are named according to their vein color and the place where they originated. So, from the name of this strain, it is easy to see that it originated from Thailand. While it comes from Thailand, it is commonly found in Borneo. White Thai is ideal for morning use, as it is known for its high potency levels.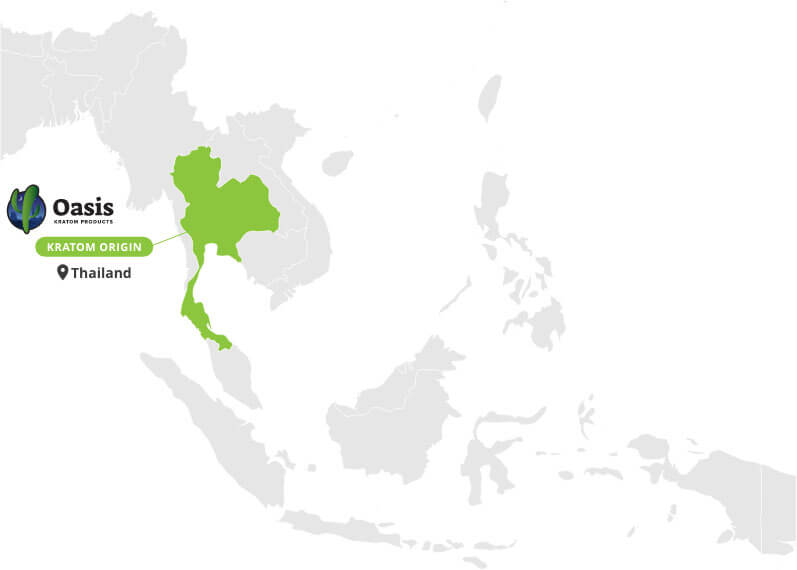 How Is White Thai Kratom Made?
White Thai Kratom is cultivated by experienced farmers who are well aware of the intricacy that goes into harvesting mature kratom trees. Since this strain is known for its longevity, it is often used to mix with other kratom strains. 
Once the matured leaves are harvested, they will be dried using a special technique. Then the leaves will be crushed into a powder. That powder is then sold to you or can be made into a number of other products such as extracts or capsules. 
American Kratom Association
When choosing a kratom vendor you will want to go with one that is registered with the American Kratom Association. While this industry is not regulated by the government each state is given the choice as to how they will handle kratom.
It can be tricky to find a reputable vendor since herbal supplements are not FDA regulated. However, the AKA has placed some guidelines within the industry to help keep consumers safe and make vendors more reliable. They are the main source of advocacy when it comes to kratom. 
To be a part of the American Kratom Association you must first meet their high standards. Oasis kratom is one of 25 vendors who is registered with the American Kratom Association. When you buy from us you are getting a quality product that has been tested and approved by the industry's leading organization. 
Related Products
WE offer a number of powders, which include White Thai Kratom, White Borneo, White Dragon, and White Horn. Don't forget to check out our range of capsules as well. If you have any questions just let us know!
If you love White Thai, then you will want to give this product a try:
Check if Green Maeng Da Kratom is legal in your state.