The Kratom plant originates from Southeast Asia and has been around for centuries. However, it is gaining popularity here in the United States, but there are still a lot of questions surrounding this ancient herb. A lot of new users get confused with the various kratom strains. Two, in particular, are Maeng Da vs Bali. So, we thought we would do a comparison to help you out.
What Is Maeng Da Kratom?
Maeng Da Kratom comes in a variety of strains, which include Red Vein, Green Vein, White Vein, and Yellow Vein. It is a potent blend that is known among kratom enthusiasts. This kratom strain originates from areas of Indonesia and Malaysia. It translates to pimp grade in Thi and it was given this name because it is so potent.
Maeng Da in all forms is known for its long-lasting support, but red tends to be a preference among kratom users. Red-veined kratom comes from matured leaves and tends to have the highest alkaloid makeup.
Maeng Da in general is a good strain for both avid users and those who are new to kratom. Before you begin and a new type of substance you should always check with your general practitioner. They are the only ones that can offer guidance on how to take kratom and if it is right for you.
Perfectly Measured and Tasty!

What is Bali Kratom?
Bali kratom comes in Red veins, Green veins, White veins, and Yellow Vein Kratom. This strain is characterized by the area in which it originates, which happens to be the Bali Islands in Indonesia. Bali is popular among avid users of kratom because of its long-lasting support. It is a great strain for beginners.
Bali is a popular strain because of its potency levels and blend of properties. It happens to be one of the original strains here in the nation and has made quite a name for itself in the kratom community.
Check out some of our newest products

Want to try the Best Red Bali Kratom Powder In the Market? Oasis Kratom got you covered. Try Authentic, potent and 100% Pure Kratom Products in 2023

$15.00 – $325.00

Select options
Understanding Kratom Strains
Kratom strains are most often characterized by the vein color, as well as where they originate. So, Red Bali, would come from Red-veined kratom and originate from Bali. However, there are some instances when this is not true. Maeng Da is not a country, so this is not the case for this strain.
Kratom can be offered in one or more vein colors. So, including the vein color in the name helps consumers know which type of kratom they are using. Specific vein colors may also be known for certain types of alkaloids. So, it helps to know the different characteristics that may define one vein color or strain over another.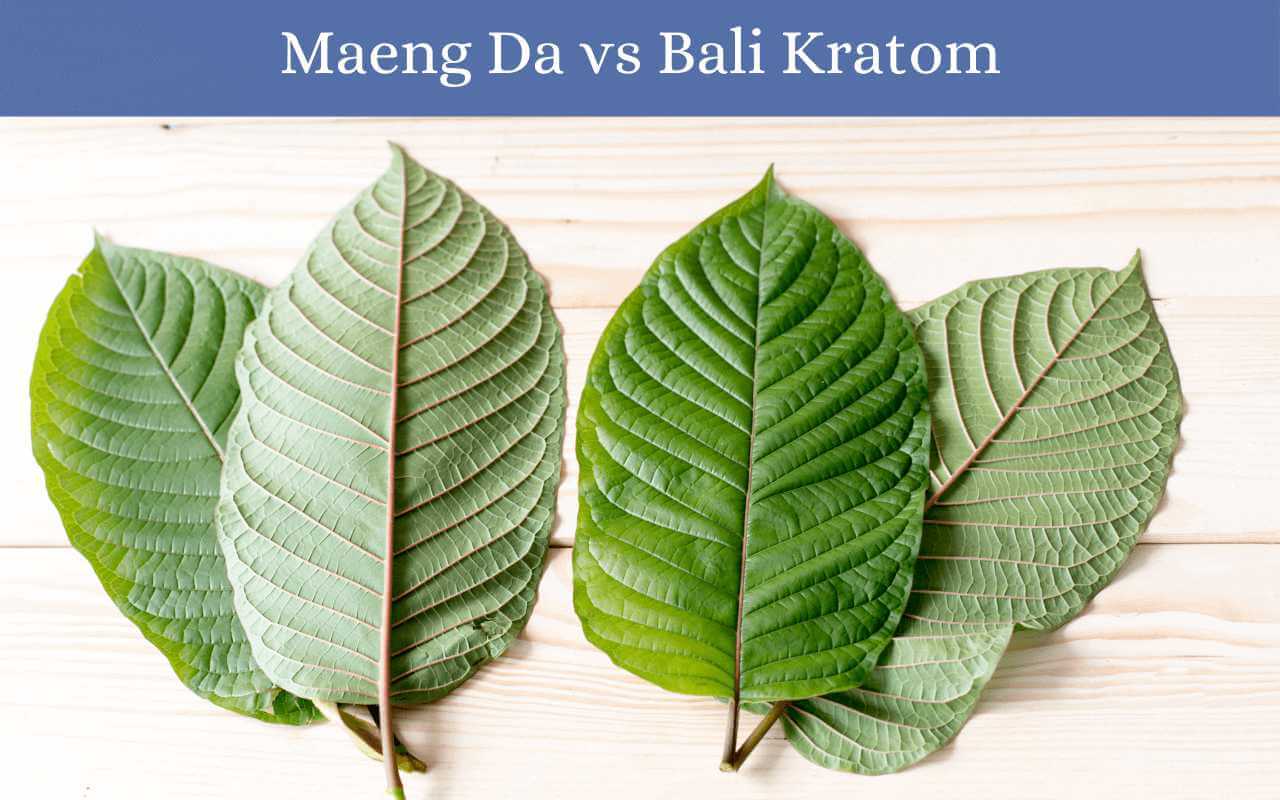 Maeng Da Vs Bali: Where Did They Originate?
While we touched on their origins above let's do a quick comparison of each strain and where they came from.
While both come from Indonesia, Bali grows around the river banks of the island within the jungle. Maeng Da Kratom on the other hand is grown in Indonesia in the jungles of the in-lands. Therefore, Bali grows on an island versus in-land. It will only grow on the Bali islands. Maeng Da can be grown in Indonesia, Vietnam, Malaysia, and more.
They are not similar when it comes to where they are grown. Also, you should know that the conditions in which kratom is grown will affect its alkaloid makeup. So, the two strains are very different in this aspect.
Maeng Da Vs Bali: Which Strain Is More Popular?
There is some confusion when it comes to the popularity of these two strains. It comes down to preference. Bali Kratom is known for its impressive alkaloid makeup. Maeng Da is highly regarded for its potency levels. Both strains are popular among kratom users, so I would say this one is a draw and is down to your own preference. While there are many popular strains to choose from, both Bali and Maeng Da tend to be favorites among kratom enthusiasts.
Maeng Da Vs Bali: Which Strain Is More Potent?
One of the most widely asked questions is which strain is the most potent. Yellow and Ultra Yellow Bali tend to be the most potent strains on the market. So, when asked, it is true that Bali happens to be more potent than Maeng Da as a whole. However, Maeng Da is a potent blend that is preferred by some people. When searching for one of the most potent strains give Red Bali Kratom a try. In addition, all red strains tend to bear a higher level of potency, so you may give Red Maeng Da Kratom a try.
Maeng Da Vs Bali: Which Strain Is Longer-Lasting?
While some users feel that Bali last in its potency levels, nothing can outlast the long-lasting support that Maeng Da provides. However, Bali does give Maeng Da a run for its money, but it has no chance of winning this battle.
What Are The Key Differences Between The Two?
When it comes down to the main differences between Bali vs Maeng Da, we are looking at the potency levels and how long the wellness support last. Bali is the winner when it comes to potency level, but Maeng Da takes the lead with its longevity support. So, it is left to the user as to what characteristics are the most important to you.
Samples at a discounted price!

What Is A 60G Capsule Sample Pack? Our Sample Pack consists of 3 strains...

$15.00

Select options

What Is A 500g Capsule Variety Pack? Choose 2 different strains and receive 250...

$70.00

Select options
Oasis Kratom
As a premium dealer for both Bali and Maeng Da, you will find them here on our site offered in powder and capsules. We also offer a variety of different strains that you will not find with other vendors. You can buy from us with the comfort of knowing that we offer the highest quality kratom on the market.
Do not hesitate to reach out to us if you have any questions. Especially if you are looking for a particular strain, as we are always growing our list of products. Our customer support team is ready to help you. We hope this comparison of Bali vs Maeng Da has helped you understand each strain a bit more.


---