WHAT ARE RED BORNEO CAPSULES?
Red Borneo Capsules are a popular strain here on Oasis Kratom. This strain is well known in the kratom community for its maturity levels and high potency. Borneo comes in three different variants, including red, white, and green. Red Borneo capsules are preferred among kratom enthusiast, as it is believed to be one of the strongest strains on the market.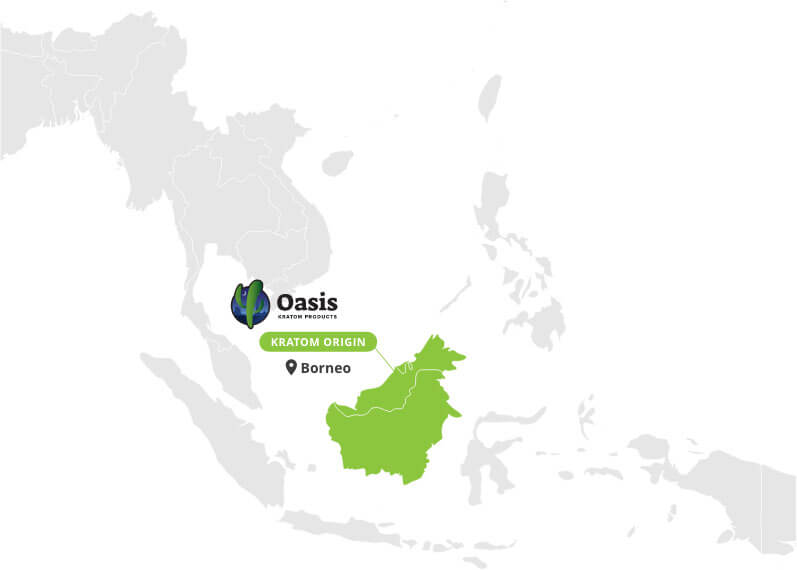 HOW ARE RED BORNEO CAPSULES MADE?
Red Borneo originates from the Borneo islands in Southeast Asia. Once the leaves are harvested from the Mitragyna Speciosa trees they will undergo a specialized fermentation process that will use sunlight and water. The alkaloids will reach peak levels during this process. The fermentation process is vital, as it will determine the alkaloid levels of the strain. The leaves will then be crushed into a powder. The powder can be used to make capsules or tinctures.
AMERICAN KRATOM ASSOCIATION
The American Kratom Association is well known across the nation for the support that it offers the kratom community. They have been successful in overturning laws that intended on banning kratom. Kratom is not regulated by the government, so each state is left to decide how they want to take care of kratom. 
The AKA group has put in place GMP protocols to help vendors provide the highest-quality kratom. Although these protocols are not mandated, they are an important part of our process. As a member of the AKA, we comply with all GMP regulations. 
In addition, the American Kratom Association is trying to get all states on board with the Kratom Consumer Protection Act. This Act will help regulate the industry, make it safer for consumers, and help appease the worries that lawmakers have. To learn more about the AKA, visit their website. 
RELATED PRODUCTS
Our other red-veined products include Red Borneo, Red Bali, and Red Dragon. Don't forget to check out our range of powders as well. If you have any questions just let us know!
Check if Red Borneo Kratom is legal in your state.