What Are Red Vietnam Capsules?
Red Vietnam Capsules are available right here on Oasis Kratom. This unique strain is not offered with all vendors but is a favorite among avid users. Vietnam is also offered in yellow veined kratom, which is hard to find. Vietnam strains are known for their overall balance and wellness support.
Where Do Red Vietnam Capsules Originate From?
Red Vietnam comes from Southeast Asia country Vietnam. You will find that most kratom strains are named by their vein color and where they originate. This area is known for its tropical climate and rich soil, which is why kratom thrives in this location.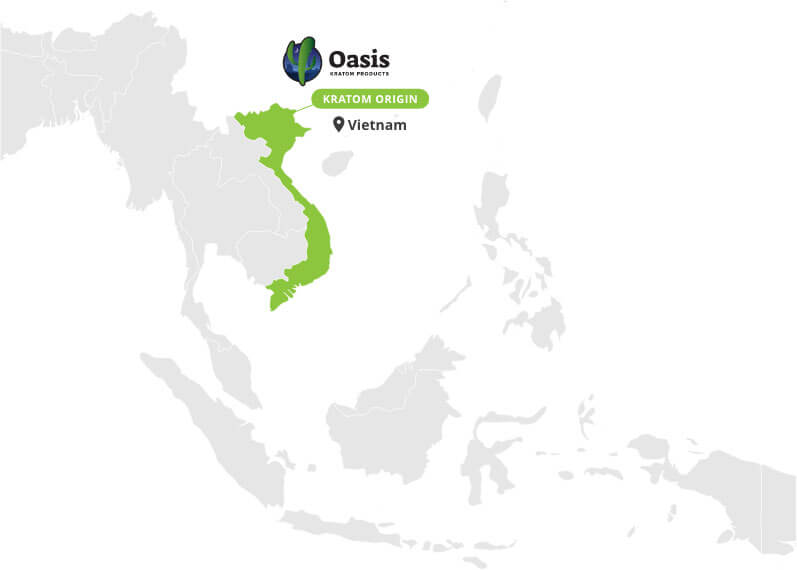 How Are Red Vietnam Capsules Made?
Red Vietnam is harvested from Mitragyna Speciosa trees. The leaves will then go through a drying process. It is during this time that the alkaloids will lock in their potency levels. Once it is completed, the leaves will be crushed into a powder. The powder can be sold on the market or made into capsules, tinctures, or extracts.
The American Kratom Association
The American Kratom Association offers its support when there are talks of banning kratom. They have been very successful in overturning legislation that aimed to ban this herb. Also, the AKA has worked hard to place regulations for the industry. They have come up with GMP protocols for vendors to comply with.
As a member of the AKA, we adhere to all GMP protocols. We find it a vital part of our process. In doing so, we can offer the highest quality kratom that the market has to offer. Also, the AKA is working to get all states to adopt the Kratom Consumer Protection Act. This act will help regulate the industry and address current issues.
To learn more about the American Kratom Association, check out their website.
Related Products
If you are a fan of Red Vietnam capsules you will want to try our other Red varieties. These include Red Bali, Red Thai, Red Indo, Red Maeng Da, and much more. 
Check if Red Vietnam Kratom is legal in your state.