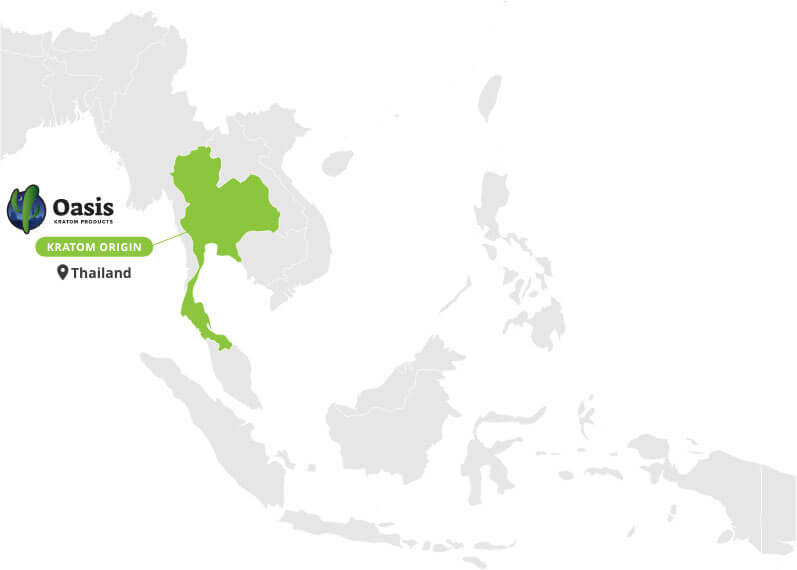 Understanding What Gold Kratom Is?
Oasis Kratom is a premium vendor for Gold Maeng Da. We offer this kratom strain in both powder and capsules, allowing you to choose which way you enjoy buying your gold kratom. Gold Maeng Da Kratom is created using a specialized drying process, which produces effects that give the leaves a golden hue. 
Avid lovers of kratom would agree that Gold Maeng Da is one of the most extraordinary strains of kratom around. If you have added other vein colors in the Maeng Da strain to your growing kratom collection, then it will have effects on your kratom tastes — and you are sure to enjoy the Gold variety. However, Gold Maeng Da is rare and not always easy to find, so you should make sure to buy this gold strain when it's available.
Gold Kratom Strains
Kratom Gold Maeng Da: Where Does It Originate From?
Many people find the origins of kratom stimulating to learn about and just knowing more adds to the euphoria of buying different kratom strains. We're ready to spill the tea and tell you all about where Gold Maeng Da comes from.
The name Maeng Da originates from Thailand and translates to "pimp grade". It was given this name because of its superior quality and potency levels. Gold Maeng Da is particularly special. While the kratom leaves that are used to create this kratom are grown all over Indonesia, only the leaves with the most robust kratom alkaloids are used in this type of kratom.
How Is Gold Maeng Da Made?
Gold Maeng Da does not occur naturally. This strain of kratom is not cultivated, it is created. The cultivation of kratom requires a climate that is warm, humid, and has adequate rainfall. Once the mitragyna speciosa tree blooms the plant is harvested. 
However, this is the beginning of how the Golden variety is created. Farmers on plantations across Indonesia will use a combination of green and white vein kratom strains to create Gold Maeng Da. Once the stems are removed, the leaves will be left to dry in the sun. 
It is during this drying process that the leaves will begin to transform into a golden color. This drying process is different from other strains of kratom, as the leaves need to be kept moist for an extended period of time. This is done by wetting the leaves each time they dry out. The entire drying process will take about 10 days. In the end, you have Gold Maeng Da, one of the most robust gold strains of kratom around, which has been changed on a chemical level simply due to sun exposure, which is truly one of nature's most amazing effects.  
Why Is This Strain Called Gold Maeng Da?
The gold in this strain name refers to the color that the leaf transforms during the drying process. The leaves and stems will first fade to a light brown and then turn into gold. It is the drying process that creates the effects that help the leaf achieve its gold color. 
American Kratom Association
One of the unfortunate side effects of loving kratom and all the strains available is that you can't trust everything you find online for sale. You always want to buy your kratom products from a reputable vendor. There are so many vendors out there who offer kratom but do not offer a quality product. So, how can you know which vendor to go with? Since kratom is not regulated by the FDA, you have to depend on organizations that have set standards for this herbal supplement. 
The American Kratom Association advocates for kratom and provides membership to quality kratom vendors. To become a part of the American Kratom Association you must reach their standards on every single vein sold. We are one of 25 vendors who is registered with the American Kratom Association. When you buy from us you are getting a quality product that has been tested and approved by the industry's leading organization. An organization that has had only positive effects on the industry.
No matter if you buy red kratom, buy white kratom, buy yellow kratom, or buy gold kratom, you should always ensure the highest quality of your purchase vs what other vendors sell by making sure it's American Kratom Association approved. That way, you know the strains in your collection are only the best. 
How to Buy Gold Maeng Da Kratom Capsules and Powder
Who has the energy to hunt all over for kratom strains? With Oasis Kratom, you've hit kratom strains gold!
 It's simple to find Gold Maeng Da with Oasis Kratom, even though these types of gold strains can be a pain to find. Maeng Da Kratom Capsules and powder are for sale on our site in various quantities, so you can be sure to find what you need of this and other strains easily. 
Click on the submenu to see that our Gold Maeng Da is available to buy in quantities that range from 60 grams to 5 kilograms, allowing you to buy as little or as much kratom as you need!
We understand that you don't want to invest all of the energy into buying new strains only to have it be a pain to return. Oasis Kratom is looking to reduce complications and pain in your life, which is why we offer a 30-day money-back guarantee on all the kratom we sell. Save your energy for something else — like ordering pizza. We pride ourselves on being uncomplicated to work with no matter what vein of kratom you choose. 
High Rated Related Products
Check out our other range of gold vein products which include Gold Bali Kratom Powder, Gold Maeng Da Kratom, Yellow Thai Kratom, and Yellow Vietnam Kratom — and don't forget the specialized blends. These suggestions may not provide the same alkaloid balance as Gold Maeng Da, but they come close and have high ratings because of it. 
If you are looking to add to your collection with other strains, Gold Maeng Da is a great addition along with these other strains, including powder kratom capsules:
Red Borneo Kratom

Red Indo Kratom

Green Bali Kratom

Red Bali Kratom
Read to see if Green Maeng Da Kratom is legal in your state.
Read More About Maeng Da Kratom